2016-10-03 17:42:29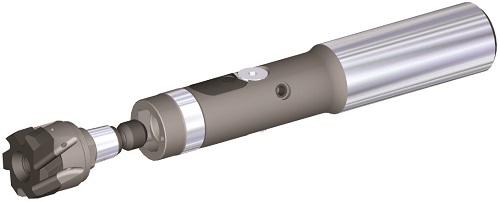 WIDIA's replaceable tip system has been upgraded with Hanita's VariMill technology, including a range of helix and cutting geometries, an asymmetrical flute design, and wear-resistant AlTiN coatings for productive use in titanium and nickel-based superalloys.
The replaceable tip end mill solution from WIDIA Products Group, featuring the DUO-LOCK™ connection from WIDIA and Haimer, can predictably take full-width slotting cuts in stainless steel and aerospace alloys at 1xD deep, and 50% cut widths at 1.5xD.
The metal removal rate is due to a double-taper, face-contact mount and intelligent thread design. This provides runout accuracy better than 5 µm (.0002 in.), axial repeatability of 10 µm (.0004 in.) or better, and up to 25% higher torque and chip load capabilities than others in this market.
WIDIA provides manufacturers with a modular alternative to solid carbide end mills in 80% of their machining operations. Examples include the WIDIA-Hanita brand VariMill III, a 7-flute center-cutting end mill with a 38° helix for high-feed machining of titanium and nickel-based superalloys, and the VariMill I, with a conical core and asymmetrical 4-flute design that eliminates chatter in extreme roughing and deep slotting applications. Both are available in WIDIA's Victory WS15PE and WP15PE AlTiN-coated grades, known throughout the industry for superior wear and heat-resistance.
For those shops that prefer a simpler toolholding approach, WIDIA offers a variety of integral shank taper, lobed, and HSK-style toolholders, as well as straight shank "cut to size" adapters 10 - 32 mm (0.39 - 1.25 in.) in diameter.
WIDIA also offers a complete range of cutter geometries, from high-performance "corn cob" style roughers to ball-nose and chamfering cutters. Many of these are available in 20° and 45° helix angles, with custom grinds and edge preps possible in a few weeks or less.