2015-11-06 16:31:01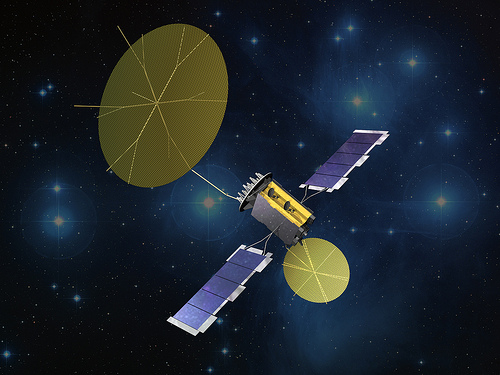 Two unfurlable mesh antenna reflectors developed by Harris Corporation (NYSE:HRS) have successfully deployed onboard the fourth Mobile User Objective System (MUOS) satellite built by Lockheed Martin (NYSE:LMT) for the U.S. Navy.
This represents the seventh and eighth successful Harris reflector deployments in the five-satellite MUOS constellation. MUOS will operate like a smartphone network in space to vastly improve secure satellite communications for mobile forces.
Unlike previous systems, MUOS provides users an on-demand, beyond-line-of-sight capability to simultaneously transmit and receive high-quality, prioritized voice and mission data, on a high-speed IP-based network. With this fourth satellite, MUOS will provide near-global coverage at 16 times the capacity while continuing to support the legacy UFO system.
Harris has built 10 reflectors for the MUOS constellation, two per satellite — a 14-meter diameter unit for multiple-beam operation that significantly increases the number of users and traffic the system can support, and a 5.4-meter diameter unit for legacy operations. The gold mesh reflectors are secured to the satellite by Harris precision booms. The reflectors and booms are manufactured at the company's facilities in Palm Bay, Florida.
"This successful on-orbit deployment validates the unique design and flexibility of our mesh reflectors," said Bill Gattle, president, Harris Space and Intelligence Systems. "We remain committed to meeting the needs of the MUOS program, which will ensure that our warfighters have the most advanced communications technology."
Harris has more than 35 years of experience designing and building space-borne antennas for government and commercial applications. Products range from unfurlable mesh reflectors to steerable and phased array antennas, to reconfigurable payload solutions. Harris reflectors range in size from 5 meters to 22 meters, with frequencies from UHF to Ka-band.
Harris also continues to play a central role in developing tactical radio terminals that will provide MUOS satellite communications capability to the end user. MUOS capability can be provided via a software upgrade to existing fielded Harris Falcon III® AN/PRC-117G manpack radio platforms. More than 30,000 Harris radios already deployed to users are ready to host the MUOS waveform software with no changes required to the radio's hardware. The company's new AN/PRC-158 multichannel radio, initially designed to compete for the U.S. Army's HMS Manpack program, will also host the MUOS waveform.