2016-04-28 18:11:32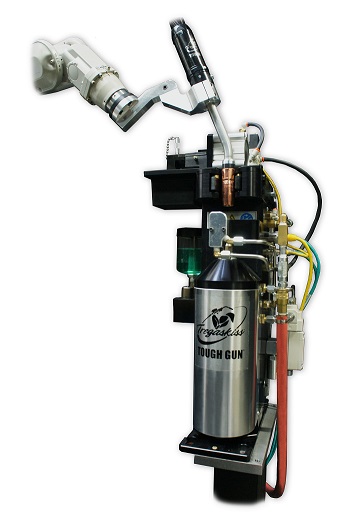 WINDSOR, Ontario — The new TOUGH GUN™ TT3E Reamer by Tregaskiss is a robotic nozzle cleaning station enhanced by digital Ethernet communications to better integrate into companies' digital controls infrastructure. According to Tregaskiss, the TOUGH GUN TT3E Reamer can reduce integration costs by up to $1,200 compared to analog reamer models by eliminating the need for an analog switch and reducing cabling requirements within the robotic weld cell. Plus, fewer components reduce potential failure points. The new reamer also offers remote monitoring capabilities, allowing companies to oversee and troubleshoot the I/O of each reamer function and its allowable parameters through the programmable logic controllers (PLC), all in real time and without the need to remove the unit from the weld cell. This feature, along with error diagnostic and recording capabilities minimize troubleshooting downtime and support greater productivity.
Featuring discrete control, the TOUGH GUN TT3E Reamer offers the flexibility to monitor and adjust all motions, along with insert recovery or fault control, further increasing productivity. In automatic mode, the reamer provides control over double-stroke, start-up dwell time and top-of-stroke dwell time. In the manual mode, there is control over the sequence and duration of each function by firing individual I/O.
The TOUGH GUN TT3E Reamer offers users the flexibility to operate the system as a switch to link robots with a single Ethernet port to an Ethernet welder or other peripherals. It also features a single wiring harness for all wire connections and improved wire labeling, minimizing the risk of wiring errors during routine maintenance and with it, unnecessary downtime.