2017-11-01 01:11:16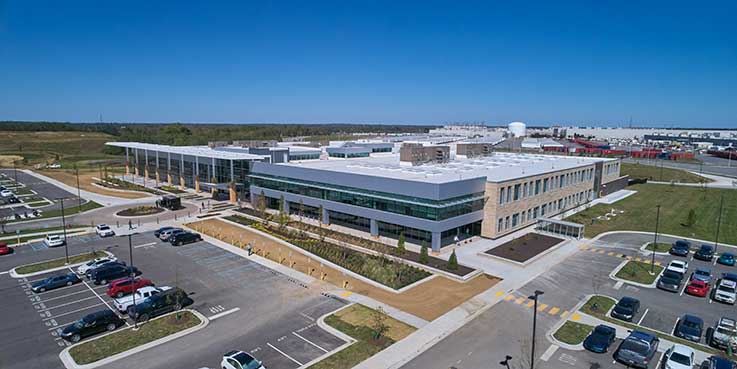 On Monday, Toyota executives, Kentucky governor Matt Bevin and local officials in Georgetown celebrated the opening of the company's $80 million North American production engineering headquarters.
More than 600 engineers at the new facility connect the dots between Toyota's vehicle design teams and its factory production lines. Known as the Production Engineering Manufacturing Center, the Georgetown facility will also help innovate and develop new technology for Toyota's manufacturing plants across North America.
The center and its state-of-the-art lab serves as the manufacturing nucleus for Toyota's 14 North American plants. It became possible as Toyota began consolidating its North American headquarters to Texas. The company donated a portion of its previous engineering campus in Erlanger, Ky., for a new STEAM-based educational center to serve the Northern Kentucky/Greater Cincinnati region. In March, Gov. Bevin announced a $6.8 million Work Ready Skills Initiative grant to Boone County Schools to reconfigure Toyota's office and engineering lab into a learning environment. The school is expected to be open in time for the 2019-2020 school year.
Now a core group of Toyota's North American production engineers will work in Georgetown. By locating the new center next to Toyota Motor Manufacturing Kentucky Inc. (TMMK) – the company's largest manufacturing plant globally – the engineering team can gain quick feedback on innovations in a production environment.
"Our production engineers are at the top of their game and help shape the future of Toyota," said Jim Lentz, chief executive officer of Toyota Motor North America. "They push the limits every day on what's possible in manufacturing to produce ever-better vehicles. And their hard work and commitment to quality shows in the products we build in our 14 plants across North America."
The unveiling of the engineering facility follows Toyota's announcement in April of a $1.33 billion "Reborn" project that is reinvesting, refurbishing and updating the TMMK plant. A paint shop fitted with new equipment and technology also is part of the investment. Separately, Toyota in September announce it will invest an additional $121 million in TMMK to expand its 2.5 liter engine production capacity.
Photo source: ToyotaKy.com