2017-09-25 00:25:41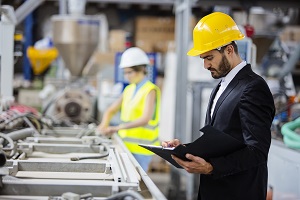 Automate the exchange of data from one software to another.
In today's highly competitive global markets, lean manufacturing is no longer a nice-to-have – it's a way of life.
You either reduce costs, simplify operations and improve productivity on a continual basis, or you lose business to competitors that do.
Lean manufacturing starts with having an integrated ERP system to manage the business from quote to cash, including purchasing raw materials, scheduling jobs, tracking costs, shipping product on time and invoicing customers. The best ERP systems are flexible and customizable enabling you to use third-party software integrations to support lean manufacturing efforts.
Take nesting software, which automatically and efficiently arranges individual part shapes on sheets or plates of stock material in a way that produces the least amount of waste. Manufacturers save time and labor costs by eliminating the manual process of determining which parts to cut on an individual sheet of metal. And they reduce purchasing costs by minimizing wasted material.
Nesting software provides a measurable improvement over the old manual process. However, it has one major limitation – it can't talk to your ERP system. This requires both systems to work independently of each other, so you still end up with inefficiency built into the process.
For example, issuing cut material to a job requires creating a work order in your ERP system, re-entering the data in the nesting software, printing the nesting report, and then going back into your ERP system to issue the material based on the nesting report. All of which takes time, adds to labor costs, and leads to the human error that inevitably occurs with manual data entry.
Fortunately, there's a better way – using a nesting interface that resides in your ERP software to automate the process.
Integrate Your Shop Floor Cutting Process
A nesting interface is a plugin offered by many ERP providers, including Global Shop Solutions, which integrates with your shop floor cutting process by allowing your ERP system and nesting software to share data with each other.
Your ERP system sends work orders, inventory information, workcenter details, and other data to your nesting software. Your nesting software uses this data to optimize material usage and the cut patterns for individual sheets of material. Then it sends data back to your ERP system, including cutlist details, material drops, scrap, and estimates for routing and work orders.
Instead of going back and forth between each software to manually re-enter the data, the entire process is simplified and synchronized, providing multiple opportunities for time savings and process improvement. Automating the exchange of data also frees up your employees to focus on producing a quality product on time.
Tighter Inventory Control
Nesting software can optimize your material usage and reduce scrap, but it can't determine how much material you have in inventory and how much of it is available for any given job. With an ERP nesting interface, you can do both.
Your ERP inventory management module tells the nesting software exactly what you have in inventory, down to the exact size and shape. Your nesting software can then identify the best piece to cut that will produce the least amount of scrap.
Upon completion of the cutting process, the nesting software communicates the material drops that need to go back in inventory or can be utilized for upcoming work orders. The result is a seamless exchange of data between the two programs that keeps your inventory figures up to date while ensuring the most efficient use of materials.
Many manufacturers also have a "bone yard," an area out back or in some remote corner of the warehouse where material remnants often sit unused until they are eventually scrapped. With a nesting interface, your ERP inventory module can automatically notify the nesting software of these materials, turning them into highly managed and tracked extensions of your regular inventory. You make full use of all your inventory and reduce costs by eliminating unnecessary material purchases.
This is an edited except from "The 5 Reasons Your ERP Software Needs to Provide a Nesting Interface" by Global Shop Solutions. For the full paper, including the other four reasons, visit http://www.globalshopsolutions.com/manufacturing-whitepapers?slider-start=4&featured=&utm_source=mfrtech_press&utm_medium=article&utm_campaign=5_reasons_nesting_whitepaper.