2015-11-20 20:55:26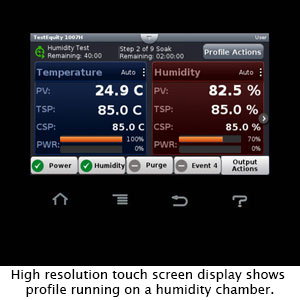 MOORPARK, Calif. — TestEquity, a leading manufacturer of environmental chambers used by many of the biggest companies in the high-tech and defense industries, today announced that its next-generation F4T touch screen controller is now available as a product option. Providing unprecedented ease of use, the F4T combines a 4.3-inch TFT projected capacitive (PCAP) color touch screen with powerful new features that deliver increased efficiency and security.
The F4T controller provides a modern and intuitive interface for the quick entry and readout of parameters and functions for TestEquity's environmental chambers. Users can easily create profiles directly on the touch screen display, or by using free Composer™ software for upload via Ethernet. Providing added convenience, an F4 compatibility mode allows most frequently used commands to be executed using existing software written for the previous-generation F4 controller.
Delivering improved efficiency, the F4T supports profile archiving and transfer via USB flash drives, which allows users to quickly transfer profiles to multiple chambers. In addition, data logging with transfer via USB flash drive simplifies the documentation process by eliminating the need for circular chart recorders. For increased security, multiple password levels prevent unauthorized users from tampering with critical parameters and processes. NEMA 4/IP65 rated, the F4T's front panel protects the controller against damage from dust and water intrusion.
"Offering elegant simplicity for users, the new F4T touch screen controller provides the perfect complement to our extensive line of chambers," said Dan Copsey, TestEquity president and CEO. "With its touch screen and wide range of advanced features, the controller delivers a completely intuitive user experience while increasing efficiency and security."
The F4T stores 40 profiles of 50 steps each, features battery backup and a real-time clock, and includes Ethernet Modbus® TCP and RS-232 Modbus RTU interfaces. The F4T is available for new TestEquity environmental chambers, while field-installable retrofit kits are available for previously purchased TestEquity chambers.