2016-09-14 18:38:39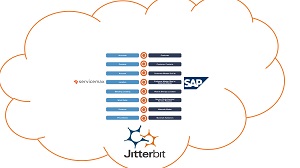 If you're using SAP in your manufacturing company, you now have a new out-of-the-box option for gathering and moving all that data from your field service reps into your back office SAP systems. Jitterbit's ServiceMax Connect connects digital field service tools with back-office data and business processes on SAP.
Digital field service must be connected to back-office systems, so that companies can streamline processes like invoicing and inventory management and ensure that data is accurate and up-to-date across the organization. With ServiceMax Connect, businesses can synchronize and automate processes across ServiceMax and SAP within days.
Jitterbit makes it easy for non-technical users to deploy and manage integrations through its graphical, no-code interface. By eliminating the need for specialized IT resources to oversee each connection, companies can create value faster, with a lower total cost of ownership. The pre-built workflows included in ServiceMax Connect empower businesses across a range of industries to realize immediate benefits from connecting field service processes to back-office systems. This includes synchronizing account, contact and location data across all systems, accelerating service order to invoice processes, and giving service technicians complete access to products, assets, invoices, orders and credits while they're in the field.
ServiceMax can be run in the cloud or on-premise.