2018-06-20 00:54:15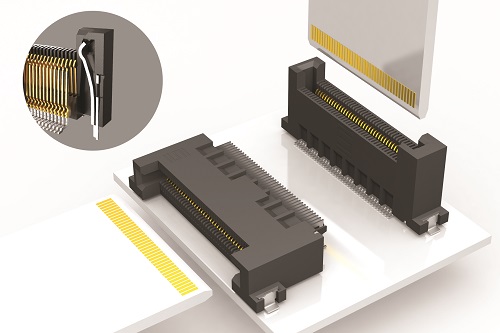 Samtec announces the release of the industry's first 0.50 mm pitch edge card socket (MEC5) with justification beam. This design meets the demands for decreased size and increased speeds, while also optimizing cost.
The socket's justification beam is designed to shift the card into proper alignment with the contacts. This allows for standard board tolerance on cards that would typically not work with ultra-fine pitch connectors. This optimizes manufacturing costs with a 30-50% PCB cost savings and a high yield for standard cards.
The extreme density of this ultra-fine 0.50 mm pitch edge card socket provides incredible space savings compared to more common 0.80 mm pitch solutions. Available in both vertical (MEC5-DV) and right-angle (MEC5-RA), this socket features up to 300 total I/Os for high-density applications.
In order to meet the industry's demands for speed, the vertical socket is designed for 28 Gbps NRZ/56 Gbps PAM4 performance. Both orientations are designed to handle PCIe® Gen 4 signaling.
Rated to 1.5 A per contact, this system accepts .062" (1.60 mm) thick cards and features standard alignment pins and card polarization. Choice of through-hole or surface mount rugged weld tabs are available for a secure connection to the board.