2017-03-23 18:51:29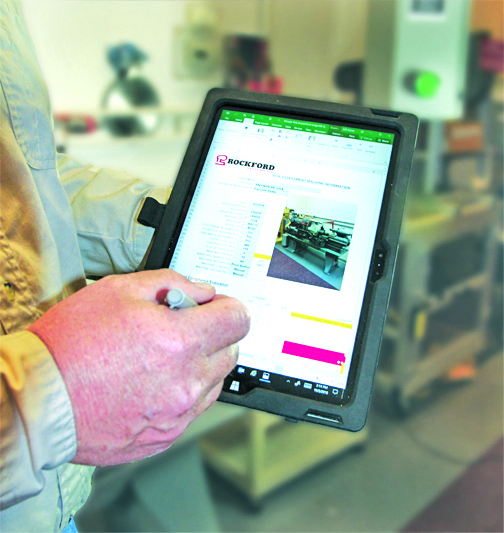 According to OSHA statistics, nearly 5,000 workers in metal fabricating plants suffer non-fatal injuries annually in the United States, or approximately three times more than those employed in electronics or apparel manufacturing. Even with strict OSHA standards and ANSI regulations in place, unguarded hazardous machinery remains a major source of amputations and other traumatic injuries in manufacturing plants.
Rockford Systems, a provider of end-to-end machine safeguarding solutions, estimates that an alarming 50 percent or more of metal fabricating machinery in the United States does not comply with the critical safety requirements for guarding outlined by OSHA and ANSI. Matt Brenner, the company's vice president of sales, says that many manufacturers are lulled into a false sense of security because a serious accident hasn't occurred or accidents are highly infrequent.
"Each plant is unique," says Brenner. "In some cases, the plant simply has inadequate machine safeguarding. In other cases, the plant's safeguarding is in compliance but the operators are unknowingly bypassing the safeguards. And in some cases, safety personnel do not fully understand the safeguarding in place. The benefit of bringing in Rockford Systems is that we not only have the breadth and depth of machine safety experience, but we offer a fresh set of eyes to see things that management might not be able to see."
"I recently spoke with a metal fabricator who truly believed their company's safety standards were in full OSHA and ANSI compliance, only to have one of his workers lose a finger a few weeks later," said Brenner. "After a citation was issued and they were fined by OSHA for the accident, I was called in to perform a thorough risk assessment. There were machine safety hazards literally around every corner and a lack of understanding of the safeguarding that was in place. For example, I noticed that a flashing yellow light was illuminating on top of one machine. When I asked the safety manager if he knew what it meant, he had no idea. I explained to him that on that machine, the yellow light indicated that the machine's safety interlocks were disabled, effectively turning off all safeguarding. When we looked further, we saw many machines in the factory had the same flashing yellow light going off, indicating safety warnings were evident on several machines."
Case Study: Consumer Products Company
Rockford Systems recently put its risk assessment program into action with a major consumer products manufacturer located in the southwestern United States. The company has a strong history of proactively addressing machine safety and placing employee well-being as a top priority. Its plant runs 24/7 with multiple production lines operating simultaneously, raising the potential for an accident and prompting the Employee Health & Safety Manager to hire Rockford Systems to conduct an extensive risk assessment of the plant's equipment.
"We promote a safety focused culture where employees are always put first," said the safety manager. "When a new corporate directive came down targeting the injury prevention value of machine guarding, we selected Rockford to perform the assessment based on its comprehensive matrix system and the professionalism of its staff. Several vendors bid for the job with comparable pricing for their services. In the end, Rockford won out because its methods made more sense."
Over the course of a week, two dozen risk assessments were conducted on the plant's machine lines, which included more than 100 pieces of equipment ranging from simple to complex. Brenner was joined by a Rockford Systems electrical engineer well-versed in the National Electrical Code to assist with analyzing electrical controls.
"We were very impressed by Rockford's team. We had our initial findings within two weeks and a final report in less than three weeks, showing not only where safety could be improved but outlining a roadmap on how it can be done," said the safety manager. "The report prioritized potential areas of concern on the plant floor broken down in a matrix graphically depicting each piece of equipment's risk ranking. We were able to see how machines with a safety rating of 12, for example, could be brought to a 4 with the addition of safeguarding."
According to the safety manager, Rockford's team was given an "impossible" task of assessing a massive manufacturing plant containing a variety of equipment—all in a short amount of time.
"I'd highly recommend Rockford Systems for a Risk Assessment. They are a great resource who remain highly receptive in sharing their knowledge," said the safety manager.
How Risk Assessments Work
In an ideal world, risk assessments would be done proactively when a new machine is installed or a major change to an existing machine has taken place. Unfortunately, that is rarely the case. Instead it oftentimes takes an accident or a large OSHA fine to spur management into comprehensive risk identification and mitigation. Either way, the procedure is the same for Rockford Systems: identify hazards based on the ANSI B11.0-2015 Safety of Machinery Standard before they cause traumatic injuries.
During a risk assessment, Brenner uses his nearly four decades of experience in manufacturing engineering to identify each machine's hazards, assigning each machine a risk rating of 1 to 27, with 27 being the worst. Ratings are based on three considerations: severity of injury, exposure frequency, and avoidance likelihood. Brenner concludes the assessment by meeting with the factory's management where the specific machine-to-machine findings are broken down into low, medium, high, and extreme risks. Identified risks can be as minor as a light bulb needing replacement or a missing yellow background on an eStop, or as extreme as the absence of barrier guards on a 100-ton hydraulic press or an exposed high-speed drive belt that could entangle an employee in seconds. Possible ideas for minimizing the machinery's risk rankings are also discussed. Those ideas can then be validated through the next step in Rockford's machine safeguarding process, which is an onsite machine safeguarding survey.
"It constantly amazes me the danger employees are exposed to in some plants," said Brenner. "What some plant managers don't understand is that by installing proper safeguarding these same employees will feel more appreciated, safer and will work harder than before, significantly improving overall productivity. In addition, accidents will be prevented, insurance costs will drop, and companies will improve their overall profitability."
Rockford Systems offers complete safety life-cycle management solutions, starting with the risk assessment, moving next into the onsite machine survey, followed by installation and integration of safety controls, management and operator training, and finally ongoing compliance validation. "Risk assessments are the first step in the process of preventing injuries and saving lives, so we take this responsibility very seriously," said Brenner.
Although not yet mandated by OSHA, risk assessments are often required by insurance loss control carriers who write worker's compensation.
New Machines Sold Lacking Guards
Another factor in lack of compliance is the machine manufacturer itself. Although safety equipment and proper machine controls are required by OSHA and ANSI, many manufacturers sell machinery without either, leaving the customer with the responsibility of safeguarding the machine. Some customers make the mistake of thinking that new machines arrive fully safeguarded according to the latest compliance standards.
While most larger factories Rockford Systems visits have safety managers on staff, the advantage of a team of unbiased, second-party professionals assessing machinery risks cannot be overstated. Rockford Systems' team of risk assessment experts have extensive experience in the machine safeguarding industry and are trained to identify the risks per OSHA / ANSI / NFPA regulations and standards and a hazard severity rating, so that management can focus their safeguarding efforts on the most dangerous situations first.
Lack of machine guarding or improperly installed safeguarding equipment was one of the top ten most cited OSHA violations in 2016, resulting in millions of dollars in fines levied against businesses.