2018-09-23 16:06:25
The Situation:
Pexco Aerospace manufactures non-flight critical plastics such as wire raceways, moldings, trim, and light ballast covers in Union Gap, Washington. The team is always looking for new ways to make it easier to meet the quality needs of its customers. The plant production team decided on a moveable quality-control instrument and it needed the right enclosure to protect the controls.
Pexco Aerospace new quality assurance fixture would be used to verify that the production parts are within specified tolerances. If trending out of tolerance, the controls will flash a tower light RED to attract the attention of the machine operator. If the deviation error is not corrected within 30 seconds, it continuously sounds an audible alarm in addition to the flashing RED light.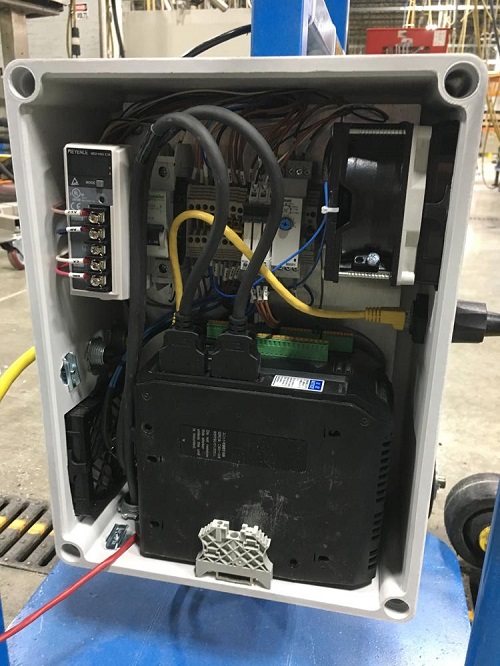 The team needed an enclosure option that had the right inside dimensions to house all the controls. Those controls included: a Keyence brand controller, terminal blocks, and slim-line relays. In addition, the team would add a LED indicator, toggle switch, cable gland, fan blower, and exhaust filter.
The Challenge:
Because the units needed to be mobile-friendly to check the parts on different production lines, a non-metallic enclosure option was chosen because a stainless-steel option is heavier and more difficult to move around. Plus, stainless steel would be harder to modify in the shop.
Non-metallic enclosures are typically easier to modify on location. The modification necessary would include drilling entryways for the red light outside the box to signal to the technician the part did not meet the standard. Also, because the plant can reach a temperature of 130?F, the team wanted to be able to have cutouts for other accessories, such as a fan and exhaust unit to keep the inside of the enclosure cool so the controls would be less likely to overheat or fail.
The Answer to The Challenge:
Pexco Aerospace reached out to their local manufacturer representative Control Components NW (CCNW) for a suggestion on the best enclosure option for the project. CCNW staff has extensive experience in building, factory, and process automation applications and has supported Pexco Aerospace in the past.
Derek Boney, a representative with CCNW, introduced the team to AttaBox Industrial Enclosures. He initially showed the team the AttaBox Heartland and Freedom series products. He also brought a catalog along with him on his visit and went over the rest of the products available, including the new accessory items. The team ended up choosing the European Styled series as it met all their needs for the unit. As a bonus, the team also purchased the fan and exhaust accessories from AttaBox.