2018-11-07 02:08:19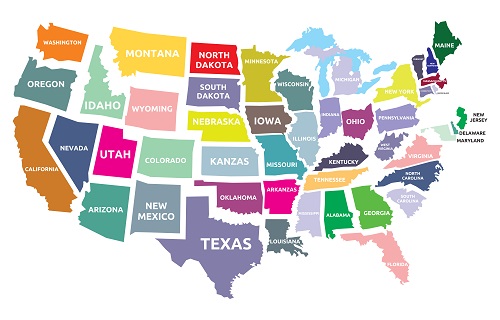 The manufacturing expansions, mergers, and acquisitions by state in the last 30 days. Don't see your state? Send your expansion, merger, and acquisition news to editor@mfrtech.com to be included in next month's round-up.
Indiana
Elkhart-based Patrick Industries, Inc. completed the acquisition of the business and certain assets of West Columbia, South Carolina-based Engineered Metals and Composites, Inc., a designer and manufacturer of custom marine towers, frames, and other fabricated component products for OEMs in the marine industry.
NTN Driveshaft Inc., a subsidiary of Japan-based NTN Corporation, will invest $90 million to increase its forging operations in Bartholomew County, Indiana purchasing and installing two hot forge presses and constant velocity joint assembly equipment at its 1.35 million-square-foot facility.
ATTC Manufacturing, a tier two automotive supplier of components, will invest more than $27.3 million to increase its manufacturing capabilities in Perry County. ATTC Manufacturing will retool its 380,000-square-foot facility in Tell City in order to add 15 new production lines to increase production of differentials cases, front knuckles and rear carriers.
Bendix Commercial Vehicle Systems, an Ohio-based company, which has operated in Huntington County for nearly four decades, will invest $1.5 million over the next three years to open a fifth building that will expand its distribution capabilities as well as its module manufacturing. The Bendix Huntington campus includes manufacturing, remanufacturing and assembly sites, as well as Bendix's primary North American distribution center.
Cardinal IG Company, which manufactures residential insulated glass for windows and doors, will invest $4.75 million to expand its Fremont facility to house a new IG fabrication line. The project will equip a new 58,000-square-foot facility in Fremont.
Fusion Wood Products, manufacturer of custom wood trim, flat panel lamination and molding products, will invest $4.6 million to expand its Elkhart operations. The investment will include expanded wrapping lines, a new lamination line and new equipment.
IQ Fibers, a manufacturer of high-quality cellulose fiber products from recycled paper, will invest $10.5 million to lease and equip the 40,000-square-foot former Sterling Casting Buildings plant in Bluffton. The company, which offers insulation, sorbent and industrial fiber solutions for its global client base, will deploy nearly half of its investment to purchase and install state-of-the-art machinery and equipment at the facility.
L&W Engineering, a manufacturer of fabricated steel and aluminum parts, will invest $4.28 million to expand its operations in Middlebury, constructing and equipping a fifth 78,000-square-foot facility at its existing 250,000-square-foot complex at 107 Industrial Parkway. The expansion, which is currently under construction, will allow the company to increase capacity of its chassis stretch and modification business.
Leentu Corporation, the manufacturer of a unique line of ultra-lightweight pop-up campers, is establishing operations in Marion County in Indianapolis. The company is investing $1.1 million in the local economy over the next four years.
Mervis Metal Recovery, LLC, a full-service provider for iron, metal, plastic, fiber and all other recyclable products, will invest $1.2 million to establish operations in Perry County, purchasing and equipping a new metal separating facility in Troy. The facility will have the capacity to process an estimated 7 million pounds of material annually, recovering and recycling approximately half of that volume instead of sending to a landfill.
Standard Industrial, which manufactures components used by companies in the assembly of their finished products, will invest $1.7 million in new equipment and processes to expand its operations in Winamac. The expansion will include the installation and utilization of robotic press braking, precision part leveling and additional laser capacity.
Tenneco Inc., a supplier of clean air and ride performance products for the automotive industry, will invest more than $5.4 million to expand its manufacturing operations in Ligonier, purchasing new pipe manufacturing equipment and welding machines at its 320,000-square-foot campus.
Trelleborg Sealing Solutions, a business unit of Sweden-headquartered Trelleborg Group, will invest more than $3.6 million to expand its Allen County operations in New Haven, just outside Fort Wayne. The company will construct and equip a new 8,000-square-foot addition to its 73,656-square-foot facility in order to accommodate growing demand for its polymer plastics sealing product line.
Tri-State Cylinder Head, which specializes in high-precision cast-iron welding and machining, will invest more than $2.5 million to upgrade its 20,000-square-foot facility at 1712 Read St. in Evansville. The company will install state-of-the-art machining equipment and custom welding infrastructure to support increased customer demand for its cylinder head remanufacturing.
Illinois
Rockford Systems, LLC., a provider of machine safeguarding products, safety education and industrial safety services, is moving its headquarters into a new, larger facility located at 5795 Logistics Parkway in Rockford, IL. The relocation is expected to be completed in January.
Kentucky
GE Appliances, a Haier company, will create 400 new jobs with a $200 million-plus investment in its laundry and dishwasher production facilities in Louisville. Work is scheduled to be complete at the end of the year.
Ring Container Technologies, a plastic container manufacturer, has opened its $23.3 million, 41-job facility in Louisville. The new Ring operation will produce food-grade polyethylene terephthalate (PET) bottles for local companies in the area.
Massachusetts
Battery Ventures, a global, technology-focused investment firm, has acquired Cincinnati-based software company SigmaTEK Systems, the maker of SigmaNEST™, a "nesting" product with advanced CAD/CAM functionality that helps professional fabrication and manufacturing companies operate more efficiently on the shop floor.
Michigan
Skyway Precision, Inc. acquired the assets of Bellwright Manufacturing, LLC. Bellwright is based in Summerville, SC and manufactures CNC machined components for the commercial truck, agricultural, utility vehicle, automotive and appliance markets. The transaction expands Skyway's geographic footprint and customer base, while leveraging Skyway's product and high-quality manufacturing expertise.
Amphenol Borisch Technologies, a contract manufacturer for the military and aerospace industries, plans to renovate its existing facility in Kentwood and purchase new equipment, investing $3.7 million and creating 82 jobs.
Magna Mirrors of America Inc., a maker of automotive mirrors, is constructing a $45 million, 175,000-square-foot manufacturing and assembly facility at its Newaygo location.
Proos Manufacturing, Inc., a metal stamping and fabrication/manufacturing firm, is adding capacity at its facility in Grand Rapids.
High-tech semiconductor equipment manufacturer KLA-Tencor Corporation plans to establish a new research-and-development center in Ann Arbor. The development is expected to generate a total capital investment of more than $70 million and create 500 high-tech jobs over the next five years.
Tier 1 supplier of bumper impact system assemblies/modules, AGS Automotive Systems, plans to expand at its Sterling Heights location. The project is expected to generate a total capital investment of $5 million.
Piston Automotive, LLC plans to increase production with a new 154,000 square foot facility in Van Buren Township, a project that will generate a total capital investment of $16.7 million and create 118 jobs.
Mobile electronics manufacturer, Alpine Electronics of America, Inc., plans to expand its operations in the city of Auburn Hills. The project is expected to generate a total capital investment of $5.1 million and create 100 jobs.
Arcanum Alloys is relocating its Silicon Valley startup to the city of Kentwood to be closer to its production partners, suppliers and manufacturing customers. The project is expected to generate a total capital investment of $693,000 and create 25 high-tech, advanced-manufacturing jobs.
West Michigan Compounding, LLC, which compounds and recycles plastic scrap will expand its current facility in the city of Greenville with a total capital investment of $6 million.
Ohio
FlexArm broke ground on their new $4 million state-of-the-art headquarters in Wapakoneta. The new 53,000-square-foot facility is slated for completion in the spring, and will include R&D, engineering, customer testing/runoff, manufacturing, and administration for both their FlexArm and FlexCNC product lines. FlexArm is a global company that manufactures high-precision tapping machines, die grinders, torque reaction arms and custom lifting solutions.
South Carolina
Swiss Krono's Barnwell plan will undergo $200 million expansion. Swiss Krono is a global manufacturer of wood-based materials.
Element Materials Technology is investing $3.4 million in a new facility in Anderson County, which is expected to create 31 new jobs. Element is a materials and product qualification tester for customers in industries such as aerospace, oil and gas, transportation and infrastructure.
Huvis Indorama Advanced Materials, a 50-50 joint venture between Indorama Ventures Public Co. Ltd. and South Korea-based Huvis Corp., is launching a new $45 million manufacturing operation at Auriga Polymers Inc.'s campus in Spartanburg County.
Georgia-Pacific, which makes tissue, pulp, paper and packaging products, is investing $4.5 million to upgrade equipment and build a 30,000-square-foot warehouse at its oriented strand board facility.
By the end of next month, Linde Hydraulics Corp., a global manufacturer of hydraulic and electronic drive systems, will have completed its new, 67,200-square-foot facility in Rock Hill. The Ohio-based manufacturer makes components for mobile and stationary electro-hydraulic, hydraulic and mechanical control drive systems
Schwalm USA, a division of the Vortex Cos., has moved into a new, larger 18,000-square-foot facility in Greenville. The new facility provides the company with office space and a larger warehouse. Schwalm USA is a reseller, distributor and repair resource for Schwalm reinstatement cutters, SDT cutting tools, Picote systems and Deep Trekker pipe crawlers.
Nupi Americas Inc. is investing $6.2 million in an expansion of its existing manufacturing and distribution facility in Hampton County.
Tennessee
Fuel Total Systems will locate its new manufacturing facility in Maury County. The automotive components manufacturer will create 150 new jobs and invest approximately $60.9 million in Mount Pleasant. With this new location, FTS will be better suited to serve its Southeastern customers. The company will build a new 110,000-square-foot facility in the Cherry Glen Industrial park.
Virginia
BGF Industries, Inc., a U.S. manufacturer of high-performance technical fiber materials will invest $7 million to relocate its corporate headquarters and R&D operation from Greensboro, North Carolina to the City of Danville and Pittsylvania County in Virginia. The company will initially construct a 25,000-square-foot facility in 2019 in the Danville-Pittsylvania County Regional Industrial Facility Authority-owned Cyber Park for its headquarters and research and development facility.