2018-06-04 00:57:42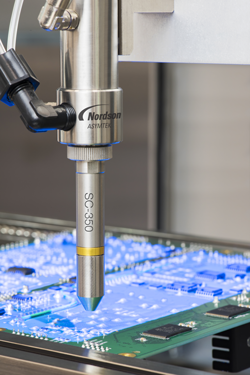 Nordson ASYMTEK a Nordson company (NASDAQ: NDSN), a global leader in dispensing, jetting, and coating equipment and technologies, will showcase a powerful array of dispensing and conformal coating systems and valves at SMT Nuremberg 2018, Nuremberg Germany, from June 5-7, in the SMARTec stand 4-401. In addition, the Spectrum™ II S2-900 precision fluid dispensing system and the Thermal Cure TC-2400 for curing underfill will be demonstrated in the Future Packaging line at Stand 5-434.

On display will be Nordson ASYMTEK's Vantage™ Series Fluid Dispensing System for precision packaging and assembly. A new system from the ground up, the Vantage is controlled by Canvas™, a completely new dispensing software with graphical programming and guided wizards.

A system designed and constructed specifically for large volume and 2-component dispensing applications, the Helios™ SD-960 Series (SD-960) handles a broad range of single- and two-component applications including potting, sealing, gasketing, and structural adhesives. The system supports highly abrasive thermal interface materials (TIMs), silicones, epoxies, and grease.

Also on display will be three conformal coating solutions, the Select Coat® SL-940 Conformal Coating System for the highest quality and productivity for automated coating processes, the FX-940 Automated Coating Inspection System, and the Select Cure® UV-9 Curing Oven. The Select Coat® SL-940 will be coupled with the SC-350 Select Spray atomizing air spray applicator that delivers exceptional edge definition and thin, uniform coating thickness at increased speeds. Visitors to the booth can also try Nordson ASYMTEK's EasyCoat® 6 software, which provides precise conformal coating with process control, traceability, and intuitive visual programming for conformal coating systems.

To arrange a meeting at SMT Nuremberg or for more information contact Nordson ASYMTEK at info@nordsonasymtek.com, call +1 760-431-1919, or visit our website: www.nordsonasymtek.com.