2016-07-18 19:12:39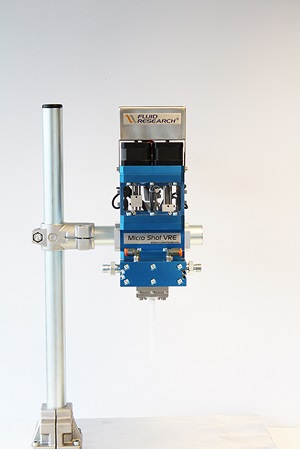 Fluid Research Ltd, manufacturer of standard and specialized resin handling equipment, has a newly developed Micro VRE valve. The Micro Shot VRE valve from Fluid Research differs from other valves in that it has been specially designed for dispensing small shots and fine beads. With its unique independent stepper drives users can program the shot size, flow rate and ratio selection with ease. Users can also expect a high degree of accuracy and repeatability from the Micro VRE—the simple mechanical principle offers high engineering precision and sophisticated control with minimal user intervention.
The major advantage of this valve gives the ability to meter and mix materials directly at the point of dispense, thus eliminating potential material delivery issues, sometimes related with remote metering of small shots.
The Micro VRE Valve weighs only 4.5kg when dry, allowing it to be mounted directly onto a robot head for automated dispensing. The Micro VRE has the versatility required in a specialist production environment and is ideal for applications such as electronic potting, encapsulating, coating and bead laying. If you are interested in purchasing the Mirco VRE valve, please email sales@fluidresearch.eu or call +44 (0)1933 277571.