2018-10-29 01:37:55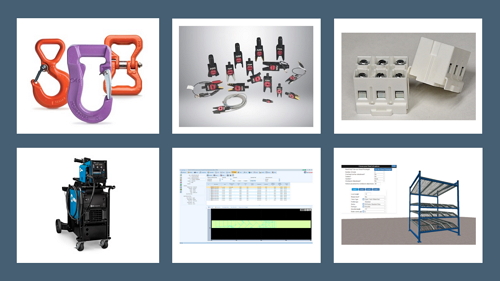 Six new products to help your business. Click on the product name for more information.
Columbus McKinnon Expands Rigging Attachments for Synthetic Slings
New forged rigging attachments allow for safe, quick and efficient building of synthetic slings.
FIPA's Upgraded Sprue Gripper Product Line
FIPA Inc. has upgraded its line of sprue grippers for handling plastic material. The updated Series 90, 100, and 130 grippers now bear the red FIPA dot, which makes the gripper components immediately identifiable in installations.
BlockMaster's New 3-Pole High-Power Feed-Through Block
BlockMaster Electronics, Inc. has added a new extension to its existing line of High Output Power modular feed-through terminal blocks, designed specifically for DIN rail or panel mounting.
New Deltaweld® 350 MIG Welder and Intellx™ Feeders by Miller
Manufacturing welding solution delivers pulsed MIG capabilities and simplified user interface.
JETCAM releases updated CrossTrack 5
The latest version now supports tracking of different material categories, such as length (rolls), quantity (sheets) and weight, or volumetric items that require life tracking such as resins.
New Online Flow Cell Configurator by UNEX Manufacturing
Pre-configured units or design from Scratch Solution creates custom workstations that apply Lean manufacturing principles.