2018-06-28 01:01:44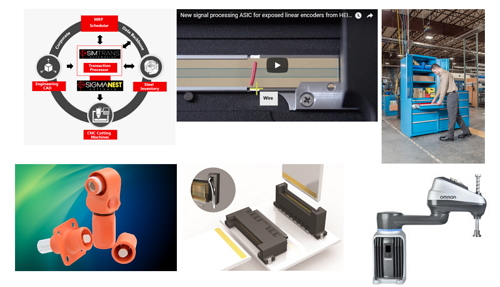 Six new products to help your business. Click on the product name for more information.
SigmaTEK Releases SigmaNEST X1.4
New version better integrates with ERP systems.
HEIDENHAIN's Popular LIF 400 Linear Encoder Family Receives Several Enhancements
The updates to this exposed linear kit style encoder originated from listening to customer requests over the years, and now comes with much improved contamination resistance, among other enhancements.
LISTA® and Vidmar® Introduces Tall Cabinet Line
A new Tall Cabinet line of customizable storage options is now available from LISTA® and Vidmar®, Stanley Black & Decker Storage Solutions brands.
High Current Compression Lug from Amphenol is Certified to UL 1977
SurLok Plus is a high current compression lug designed to meet the needs of energy storage for commercial and residential battery storage systems.
Samtec Releases Industry Leading Ultra-Fine Pitch, High-Density Edge Card
Micro 0.50 mm pitch edge card socket for space and cost savings.
Omron Corporation is introducing a new line of SCARA robots, boasting sleek design and enhanced performance.