2018-08-07 02:02:26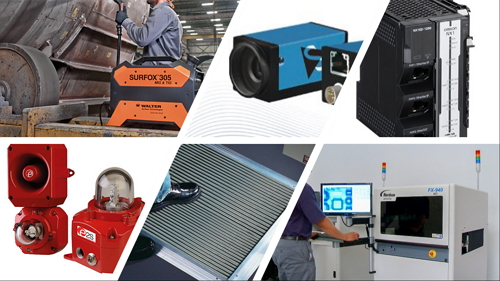 Six new products to help your business. Click on the product name for more information.
Pressure-Sensitive Safety Mats
Rockford Systems, LLC. is helping manufactures build additional machine safeguarding protection into their operations with a complete line of pressure-sensitive safety mats and accessories.
New MIG and TIG Weld Cleaning System SURFOX™ 305
Walter Surface Technologies' patented electrochemical MIG and TIG weld cleaning system is now safer, faster, and more user-friendly.
D2x Xenon and LED Synchronized Beacons Approved for Haz. Loc. Use
E2S Warning Signals extends automatic fire detection systems into hazardous areas.
Nordson ASYMTEK New System Combines Conformal Coating and Inspection
The new automated coating inspection line combines its Select Coat® SL-940 Conformal Coating system with the FX-940UV Series ACI/AOI Automated Conformal Coat Inspection system.
10 New GigE Industrial Cameras with Pregius and STARVIS Sensors
The Imaging Source has expanded its 33G-series family of compact, cost-effective GigE industrial cameras.
Omron's NX1 Controller for IIoT Applications
The latest NX1 series machine automation controller enables smart factories by providing the link between compact machines and the Industrial Internet of Things.