2018-10-10 00:20:03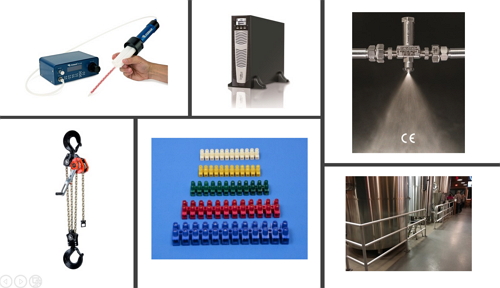 Six new products to help your business. Click on the product name for more information.
Fisnar Launch DTD50 50ml Multi-Ratio 2K Dispense Tool
Fisnar's new DTD50 is a pneumatically-controlled 50ml multi-ratio 2K dispense tool for precise dispensing of two component materials packed into 50ml side-by-side cartridges.
Riello UPS New Sentinel RT Single Phase UPS for Critical Applications
New line features single-phase UPS with online, double conversion technology for maximum power protection and power quality with a clean sine wave output.
Conserve Precious Liquids with No Drip Atomizing Nozzles by EXAIR
EXAIR's new 1/8 NPT No Drip External Mix Atomizing Spray Nozzles mix liquid and air outside the nozzle and allow the air and liquid flows to be adjusted independently.
Columbus McKinnon Expands CM Tornado 360° Hoist to Include 9-Ton Units
Ergonomically designed for increased safety, the patent-pending CM Tornado 360° allows the operator to be more productive with significantly less effort.
BlockMaster's New Eurostyle "Jelly Bean" PA Series
The new EuroStyle PA Series features nylon terminal blocks in multiple colors for ease in identifying terminations and preventing costly field wiring mistakes.
Superior Aluminum Series 500 Aluminum Railing Protects Equipment and Visitors
Designed with aesthetics and functionality in mind, this decorative railing is strong, durable and maintenance free, and meets OSHA, ADA and ICC safety criteria.