2018-07-14 22:32:47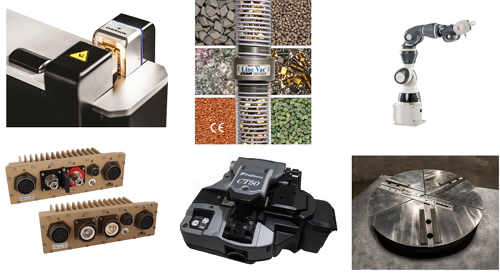 Six new products to help your business. Click on the product name for more information.
Emerson Ultrasonic Wire Splicer
Compact design combines with advanced controls and ergonomic flexibility to maximize output.
EXAIR's Heavy Duty Air Powered Conveyor
Heavy duty line vacs resist wear and transport more.
It's newest member of YuMi® family.
DDC's Solid-State Power Controller
New 16-channel controller offers programmability, system health diagnostic and prognostic data, and high-power density in a compact and ruggedized military-grade form factor.
Fujikura Europe's New Intelligent Optical Fibre Cleaver
The CT50 provides a dramatic reduction in handling time and maintenance costs.
Large Dillon Full Grip Jaws to 24" Diameters and 8" Extended Height
Dillon Manufacturing is now producing large diameter (up to 24") full grip jaws from 1018 CRS, 6061 Aluminum and Dura-Bar Cast Iron.