2017-12-27 02:46:39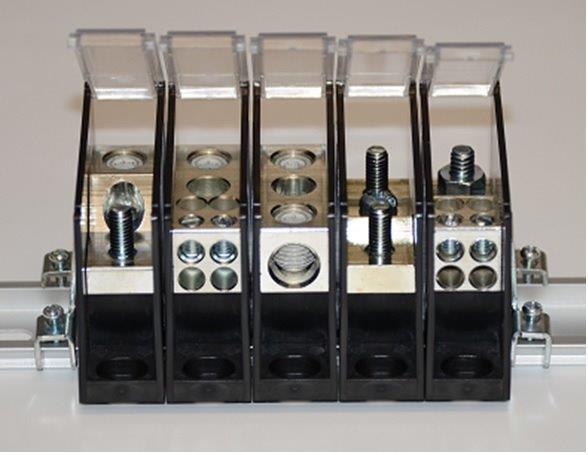 BlockMaster Electronics has a new line of High Output Power one-pole modular terminal blocks, designed specifically for DIN Rail or panel mounting. The new high-power blocks are rated 175 Amp and 600 Volt for electrical applications in power panel distribution. These new High Output Power terminal blocks can also be used for lighter power applications, and therefore have extended utility as a "one size fits all" product line.
This new HP-ATB-175B Series provides a convenient means of transitioning larger gauge, high-power mains to same size or lower-power branch circuits.
Applications include:
HVAC equipment

Pump Control Panels

Solar & Wind Power

Motor Controls

Switch Gear

Lighting Panels

Elevator Systems

Other Industrial & Commercial Applications
Six modular termination configurations, that may be DIN rail or panel mounted, allow you to configure your wiring requirements to each job. These power blocks may be ganged together in any combination or used individually.
LINE SIDE LOAD SIDE
Hex Clamp Stud
Hex Clamp 4 Screws
Hex Clamp Hex Clamp
Stud Stud
Stud 4 Screws
Hex Clamp 6 Screws
The new High Output Power terminal blocks comply with UL and CSA Standards, as well as RoHS, and feature:
Rated: 600 Volts, 175 Amps

Operating Temperature: -25° C to +125° C.

Housing: PBT 94V-0

Cover: Clear Plastic Safety Cover; Polycarbonate (UL94V-0)

Terminals: Aluminum

Screws: Aluminum and Stainless Steel

Withstanding Voltage: AC 2,500 V