2015-11-20 20:10:44
Krailling – At the ceremony for the first-ever "Game Changer Award," which was initiated by Manager Magazin and Bain & Company, the prize in the "Challengers" category went to EOS, the global technology and quality leader for high-end Additive Manufacturing (AM) solutions. The event was held at the Gasometer in Berlin, Germany.
The two initiators of the new award deal daily with business models that transform entire sectors and industries. This inaugural award focused on the mega trend of digitization, and its significant and far-reaching effects on the global economic system. In addition to EOS, the prize also honored two other companies in the "Incumbents" and "Focused Players" categories. What all three companies have in common is that they developed their own methods for changing the rules of the game for their company and their industry.
Olaf Koch, Chief Executive Officer of METRO AG, who delivered the laudatory speech for EOS, states: "As the market leader and pioneer of the revolutionary industrial 3D printing technology, we considered EOS an obvious candidate for the Game Changer Award. EOS' development, since its formation in 1989 to the present, provides impressive proof, as the company progressed from Rapid Manufacturing of prototypes through small series to series production for larger volumes. EOS is an excellent example of technical innovation and entrepreneurial creative power. The current and especially future impact of the technology on value chains in the industry and the entire economy is enormous."
Dr. Hans J. Langer, Founder and CEO of the EOS Group, explains: "We are very pleased with this award, and would like to thank the initiators and the jury. It shows us that we are making the right decisions on the basis of our long-term business strategy. With this award, Manager Magazin and Bain & Company are also honoring a technology that is already heralding a paradigm shift in engineering and production, and that plays a role in gradually creating entirely new business models at our customers."
The selection of finalists for this award was based on a structured methodology, and followed the same four-level approach for all three categories: Preparation of a long list of companies, followed by a general preliminary selection and selection of the finalists on the basis of specific criteria related to digitization. The selection was also based on discussions with national and international industry experts. In a last step, the finalists were subjected to a due diligence, which was then presented to the jury to determine the winners.
The Game Changer Award was created without a call for applications. Only companies whose head office is located in Germany were considered. This resulted in 78 potential candidates for the Challenger Award that EOS won. In this category, the investigation focused mainly on the disruptive potential of the business model and its impact on customers and competitors. In this context, the following factors were analysed in particular: added customer value, the impact on the industry, and the future outlook for sustained and profitable growth.
The detailed company analyses were made available to a jury whose members are leaders in industry and academia. The jury selected a winner in each of the previously mentioned categories. The jury members were:
· Prof. Dr. Ann-Kristin Achleitner, Chair of Entrepreneurial Finance and Scientific Co-Director of the CEFS at the Technical University Munich
· Andreas von Bechtolsheim, Chief Development Officer & Chairman of Arista Networks
· Prof. Dr. Henning Kagermann, President of acatech
· Steffen Klusmann, Chief Editor of Manager Magazin
· Philipp Justus, Managing Director of Google (Germany, Austria and Switzerland)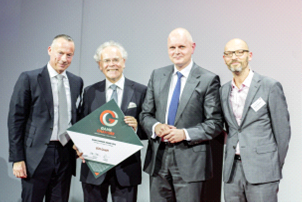 Hans Langer, founder and CEO of the EOS Group, holds his company's Game Changer award. With him, left to right, are Walter Sinn of Bain & Company, Olaf Koch, CEO of Metro AG, and Steffen Klusmann, Chief Editor of Manager Magazin. (source: www.grossaufnahmen.de)