2018-07-22 23:11:40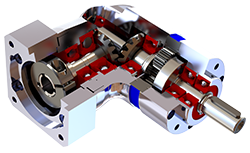 GAM's new EPR and PER Series Right Angle Bevel Planetary Gearboxes provide all the advantages of GAM's popular EPL and PE inline planetary gearboxes, in a right angle configuration.
Featuring a high-performing spiral bevel gear input to an inline planetary gear output, the EPR and PER are available in ratios of 3:1 to 1000:1 and a wide range of sizes and configurations. The EPR Series features five output options including three different shaft outputs, a hollow shaft output and a flange output.
The PER is a value option employing output bearings typically found in other higher-priced competitive gearboxes and is used in motion control applications where axial and radial loads are minimized. The PER has a metric or NEMA shaft output option. The EPR and PER are available with motor mounting plates to accommodate most servo motors.