2018-10-14 23:42:17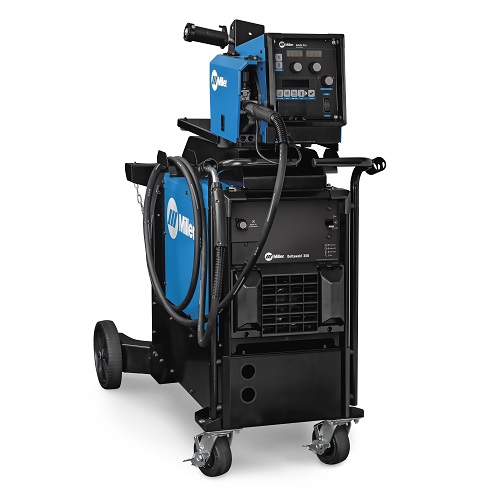 Manufacturing welding solution delivers pulsed MIG capabilities and simplified user interface.
Miller Electric Mfg. LLC has released the new Deltaweld 350 MIG welding power source and Intellx series wire feeders, designed for a wide range of general manufacturing applications.
Providing ease of use for welders of all skill levels, the Deltaweld 350 and Intellx feeders offer a simplified system and now bring pulsed MIG welding to more welding operations.
The system is available as an integrated package. The power source, feeder, cart and all necessary components ship as one complete package, so users can simply open the box, hook the machine up to primary power and begin welding in a few steps.
The Deltaweld 350, which delivers 350 amps at 60 percent duty cycle, replaces the Deltaweld 302 MIG welder. The new power source is available in two models: one with new ArcConnect technology, which links the Deltaweld to the new Intellx feeders, and a second model with ArcConnect and a 14-pin connector, which allows the power source to be used with existing feeders.
Two new feeder options — the Intellx and Intellx Pro feeders — offer flexibility for a range of applications. The Intellx feeder model offers basic voltage and wire speed control and new Arc Control technology, allowing welders to change puddle fluidity for different applications. Intellx Pro feeders provide pulsed welding capabilities, delivering a more forgiving arc and wider operating window for welders of all skill levels. EZ-Set technology automatically sets parameters based on material thickness when changing wire feed speed.