2016-08-08 13:27:32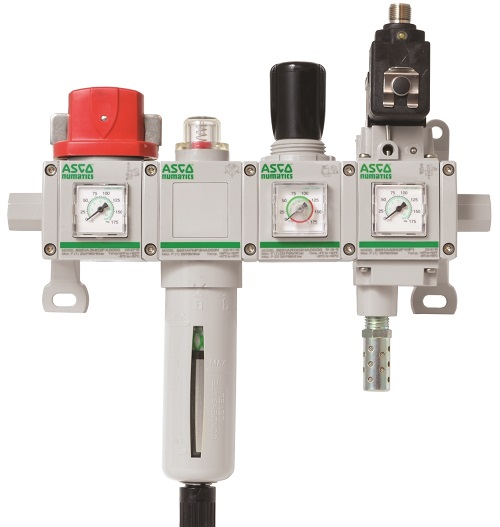 ASCO's new Numatics 651 Series filter, regulator, and lubricator (FRL) line of air preparation products broadens the company's high flow-rate 650 Series family to include products with 1/8-inch and ¼-inch port sizes.
The 651 Series FRLs are designed to fit in compact applications and in machines that require less air consumption such as in the packaging and other applications that require space-saving designs.
The 651 Series extended high- and low-temperature capabilities (-40° C to 80° C) permit its application across a broad range of operating conditions, including those with harsh environments. The modular FRL products feature robust construction and are easy to assemble, mount, and position. New manifold endplate flanges allow a maintenance technician to pull the manifold assembly out of service without disconnecting the piping. Front-facing, low-profile gauges are easy to read, and the 651 Series is the only product of its type that comes with these gauges on its shut-off isolation valves and slow-start/quick exhaust valves.
Optional integral pressure range indicators added to the low-profile gauges allows users to easily set the red/green color indicators to the desired pressure range.
Additionally, an optional 3-micron pleated pre-filter has been added to the line's coalescing filters and coalescing filter/regulator combination units. This filter eliminates the need for a separate particulate filter unit, reducing cost, size, and weight.
www.asco.com
1-888-686-2842
an.insidesales@emerson.com