2018-02-21 01:59:27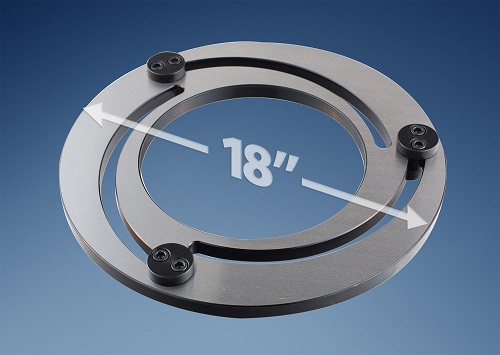 New jaw boring rings by Dillon Chuck Jaws provide uniform pressure on jaws for consistent bore on large diameter chucks

Dillon Chuck Jaws introduces an 18" diameter boring ring. Its relatively light weight allows customers the same ease boring out 18" diameter blank top jaws as is had when forming smaller diameters using the smaller sized boring rings.

Dillon jaw boring rings are easy-to-use tools that allow soft jaws to be machined precisely and thus grip the intended workpiece more firmly. These proven jaw rings provide uniform pressure on all jaws, for a consistent bore. Available in adjustable or chuck-diameter-specific styles, both with no-tools attachment. The Dillon jaw boring ring compensates for "jaw lift", even in worn chucks, which results in better parts concentricity. Use of this device will provide a jaw surface true to the machine centerline, reduce set-up times, and increase up-times for running machined parts.
Jaw boring rings are available for 5", 6", 8", 10", 12", 15", and 18" chucks, or in adjustable versions for 5"-8", 6"-10", and 8"-12" chucks. Self-centering action provides equal pressure on all jaws.
www.dillonmfg.com
sales4@dillonmfg.com
(800) 428-1133