2017-10-25 01:18:32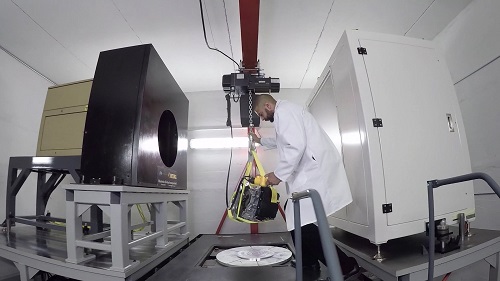 Jesse Garant Metrology Center (USA and Canada) has a new high energy industrial CT scanning service. With this system, the company will be the only private lab in the world to provide this specialized inspection service.
The system pairs a 3 MeV cone-beam x-ray source with a large format 2k x 2k flat panel digital detector. It's able to accommodate rapid inspection of mid-size parts, up to 44.5 inches in diameter by 63 inches in height. The new capabilities also directly support the metalworking industry, allowing for feasible internal inspection of castings made from ferrous and non-ferrous materials.
The unique system offers multiple advantages for non-destructive testing, including a drastic reduction in inspection time for scanning mid-size parts and assemblies. While existing high energy CT inspection services may take 4-16 hours to complete scans, the new system is able to scan parts in less than an hour. The service will also be beneficial for inspection of complex parts and assemblies, allowing for cleaner separation of internal components, and inspection of higher density materials not possible with lower energy micro CT systems.
The company aims to fill the gap in current inspection technologies that limits the application of industrial CT technology due to part size and density. This will allow for internal inspection and dimensional validation of cast parts that would otherwise go into production without proper inspection. The exclusive technology will also provide useful analyses for the metalworking industry including identification of defects like porosity, inclusions, wall thickness variations, first article inspection, and actual to nominal comparisons for out of tolerance features.
The costly endeavor lead by the company required a sizeable $4.5 million investment in technology as well as three years of planning, design, development, and construction to reach full operation. The new system required sourcing from both local and international manufacturers, vendors, and specialists, including the construction of the largest 1m x 1m flat panel detector in the world.
With federal operational permits currently in place, the new system is now live. Jesse Garant Metrology Center is currently taking on orders from companies who wish to access this innovative technology during the system's ramp up period.
Contact: Mike Earish, Senior Project Manager, at mikee@jgarantmc.com