2017-09-11 00:26:26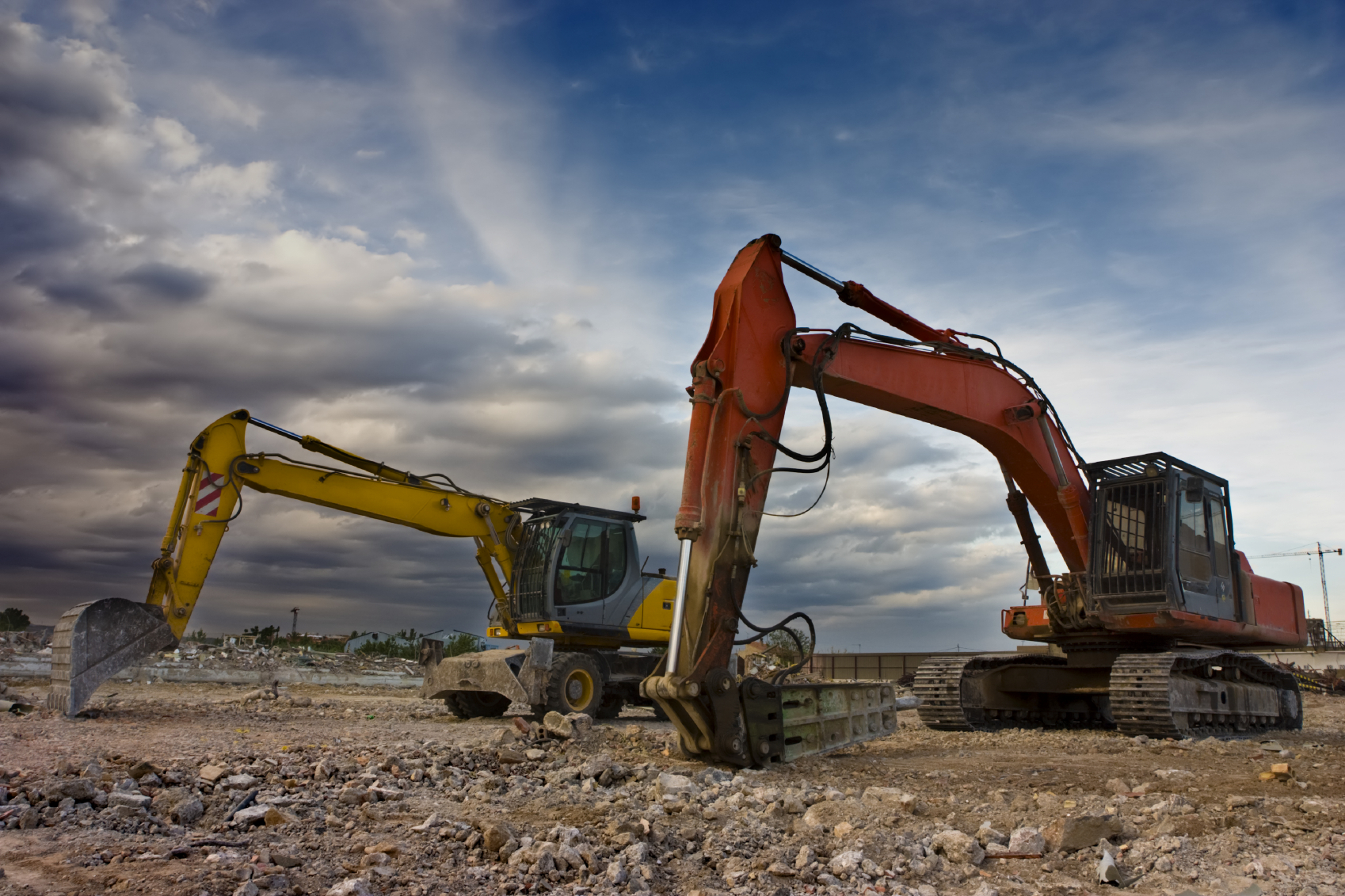 By Teik Chuan Goh, analyst, manufacturing technology at IHS Markit
Since 2016, the world has entered into a time of greater political uncertainty. The impact on global economic growth and business performance has been mixed. In the first quarter of 2016, estimates of machinery production were dictated by EMEA as a whole, facing a collapse in oil and commodity prices: the result was weak machinery production for Russia and CIS, Ukraine, Turkey and many Middle Eastern nations. With weak German exports to these countries and China there was little growth in machine production in 2015 or in 2016; this situation is expected to continue in 2017. There was less change in late 2016, apart from the effects of uncertainty following the UK vote to leave the European Union and the continuing financial difficulties of Greece; as a result of this, the outlook for those regions has been revised down for 2017.
It was the same story in the Americas, where IHS Markit estimated machinery production in Q1 2016 and Q2 2017 to be rather flat. This is the outcome of low oil prices and a few laggard industries (mining, oil and gas, and agricultural machinery) dragging down US machinery production and confidence in the forecast. As spending on the mining and oil and gas sectors continues to contract, countries like Canada and Brazil have suffered. Where 2016 was a year that Brazil faced political uncertainty, the United States was in a similar situation in 2016 during its presidential elections. The promise that the president might bring back jobs stateside and cut taxes prompted IHS Markit to improve the forecast for Q2 2017. However, with each month that passes, confidence falls that Trump will be able to deliver on his promises. IHS Markit will continue to evaluate the situation and adjust the forecast accordingly.
In China, where the machinery market is more reliant on domestic than external demand, 2016 was no different as the effects of weaker global demand became apparent in Asia. China is moving up the manufacturing value chain, buying higher value-add equipment domestically, with supply chains increasingly concentrated within the country. These developments continue to surprise with weaker-than-expected demand for machinery products for China's neighbors, especially in Japan and South Korea. The forecast for China was generally flat as 2016 proved to be a year full of uncertainty and few clear signals.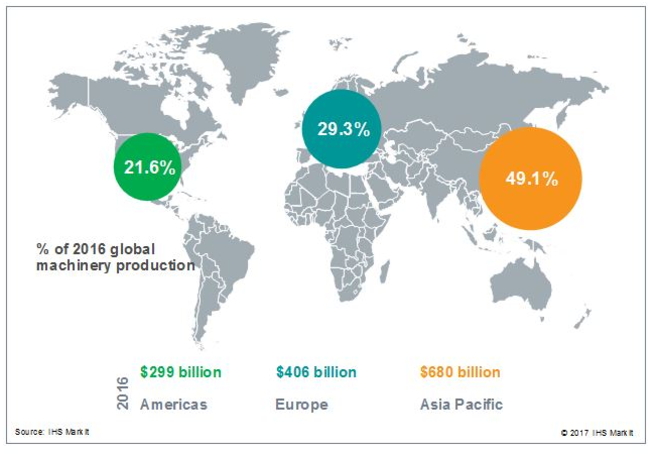 A light at the end of the tunnel
That being said, there are improvements in machinery production revenues and unit shipments, and IHS Markit forecasts improvement across the board in 2017. Overall, momentum in the global economy firmed up in Q4 2016 progressing towards February 2017 due to a number of factors, including the rise of commodity prices – especially oil and gas, metals and crops.
Machinery production sales are often closely tied to the performance of the commodities to which they are related. IHS Markit predicts that global machinery production revenues will grow 2.2 percent in Q2 2017 as a result of broad-based improvements seen across the board for most industries, alongside better overall GDP and PMI performance worldwide veering into growth territory.
Harvest season
Machinery production for agriculture is highly concentrated by region, and most of the global revenues in 2017 were concentrated in the top five countries – with China and the United States making up more than two-thirds of global production. Leasing is becoming more common, especially in North America, as companies and farms try to reduce their cash outlay.
Agricultural production and yields have increased steadily over the course of the last few decades, a testament to the productivity and innovation of the sector. Since the mid-1990s, crop production has increased by 60 percent even as the land area used to raise crops has decreased. This trend of increasing yields may slow, though, as population growth slows.
That is not the case in some countries, as subsidies also play a big role. This was demonstrated in China where the government heavily subsidizes the agricultural machinery segment. IHS Markit has predicted its growth to continue well in to 2021, with a CAGR of 6 percent from 2016 to 2021.
The Middle East will see good growth in coming years, as many nations seek to employ more advanced, very-high-yield production practices. However, because of a lack of arable land and the high cost of farming in the region, the scale there is expected to remain small.
Getting from point A to point B
IHS Markit predicts production of materials-handling equipment (conveying and lifting) will grow more than 4 percent per year through 2021, but will face fierce competition in 2017 from other types of equipment such as automated guided vehicles (AGV) and automated storage retrieval systems (ASRS). However, production of conveying equipment is still predicted to grow the fastest due to an expanding middle class and the growth of online retail giants like Amazon, eBay and Alibaba. In addition, an increasing demand for packaging and food and beverage production has propelled the adoption of high-tech conveyors with better throughput rates.
These high-tech conveyors also are necessary for fully-automated ASRS and drone delivery systems. Furthermore, lower air fares are encouraging more people to travel by air, which is increasing the demand for baggage-handling conveyor systems at airports. Other than that, the birth of intelligent conveyors, which can organize products without standard separators or expensive robotics, is reducing the footprint of material lines and enabling them to consume less power.
The cranes-and-hoist sub-sector has been affected by a reduction in capital expenditure in the shipping industry, which accounted for much of the market for such machinery. The large second-hand crane-and-hoist market in the Asia Pacific region is contributing to reduced sales of new cluster equipment for products, such as bridge and gantry cranes. With the recent change in shipping fuel regulations, which governs international shipping (cutting sulphur limits in marine fuel from 3.5 percent to 0.5 percent in 2020), will bump up shipping costs and hurt port equipment sales even more.
There is also a large second-hand market in Asia for trucks, but it is balanced by manufacturers that are opting to incorporate newer machinery into their legacy and automated fleets.
Light vehicle sales driving urban congestion
Asia made up nearly two-thirds of the global machine tool market in 2016. In China, the largest market for machine tools (estimated as more than 30 percent of the global total in 2016), there is a divergence in the outlook for machine tools, with sectors dependent on heavy industry suffering, and the automobile, electrical and lighter industry sectors still growing strongly in Q2 2017. In vehicle manufacture, increasingly advanced machinery is needed to cut the different types of composite materials that go into building greener and cleaner motor vehicles.
Light-vehicle production in mainland China is expected to increase 2.0 percent and reach 27.9 million units in 2017. SUV production should maintain double-digit growth. Automobile production in Mexico is predicted to expand 15 percent in 2017, moderating at lower growth rates over 2018–19. The total already incorporates the output from plants currently under construction or under firm projects. Most of the new output will head to the United States. However, in the United States in early 2017, total passenger car sales were down 11.5 percent year-over-year, while light truck sales were up 5.6 percent in the same period. Thus, we expect light truck sales continue to dominate the landscape given current fuel prices. Still, IHS Markit forecasts a moderate decline in the automotive industry output for the full year of 2017.
Machinery Production Market Tracker
The IHS Markit Machinery Production Market Tracker presents an in-depth review of major machinery production in Europe, Asia Pacific, and the Americas. The machinery production market tracker presents annual forecasts, updated every quarter, to ensure you have up-to-date information to allow for the most informed decision-making. The tracker also presents the value of automation products included in each machine by type.