2017-09-17 18:47:25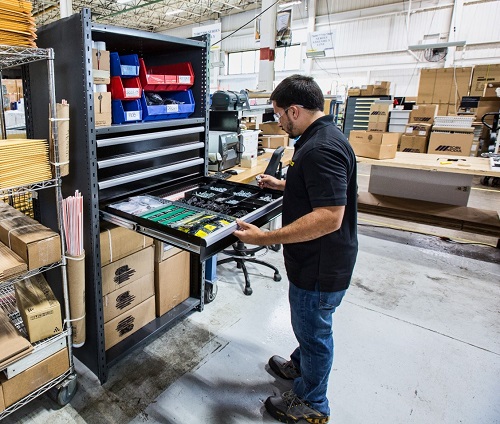 Providing optimal productivity and maximum storage, the new Lista Shelf Converter® System transforms ordinary shelving into an efficient, high-density storage solution. Adjustable shelves, drawers, and trays convert existing shelving into uniquely customized storage to best fit your everyday storage needs. Compatible with multiple industry-leading shelving manufacturers, this system makes updating your storage capabilities easier than ever.
Designed to help healthcare, manufacturing, automotive, maintenance and repair and assembly environments reach key efficiency, the Lista Shelf Converter® storage system features an all-new 18" depth system of drawers, in addition to the existing 24" depth. Drawer heights range from 3" to 8" and offer both 200 lbs. and 400 lbs. drawer capacity solutions, offering an increased drawer cubic capacity of over 30% when compared to previous models.
The converter frame is available in four sizes with multiple drawer width and height options. Frames consist of:
Heights: 18", 24", 36" 48"
Widths: 30", 36", 42" and 48"
The added shelf converter drawers are ideal for storing small parts, making inventory easier to locate, pick, and manage. All recessed drawers extend fully to easily access items in the furthest corners, while a 400 lbs. capacity roll-out tray provides the perfect solution for larger, bulky items.
Drawers can be labeled with hinged handle covers and Lista Script software to ensure optimal organization and improved product retrieval time.
http://www.listaintl.com/cabinets-storage/shelf-converter-systems/overview
800-722-3020
sales@listaintl.com