2018-07-10 01:43:54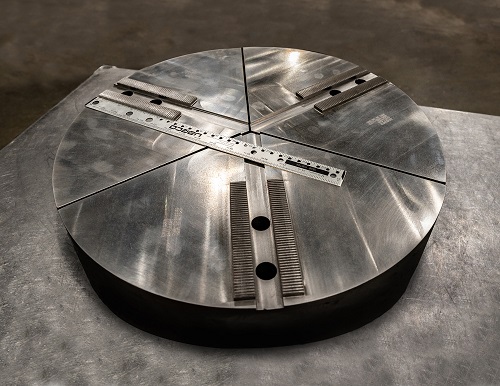 Dillon Manufacturing is now producing large diameter (up to 24") full grip jaws from 1018 CRS, 6061 Aluminum and Dura-Bar Cast Iron. Extended height for the full grip jaws range up to 8" for diameters up to 18", and up to 6" heights for diameters 21" – 24". Manufactured in ISO 9001:2015 certified facilities, these jaws are readily produced and ship in under a week, providing unparalleled quality and lead times.

All sizes are in stock or have a short delivery time. Special full grip pie jaws are available (i.e. extra height or diameters) with a one-week lead time. Dillon full grip top jaws feature excellent corrosion resistance, with very good machining and welding characteristics.

Dillon Manufacturing, Inc. manufactures a complete line of standard and custom workholding solutions including chuck jaws, chucks, vises, soft jaws, hard jaws, collet pads, and more. They manufacture jaws using 1018, 1045, 4140, 8620, A-2, 6061 aluminum, and stainless steel. All products are made in the USA and available through local distributors throughout the United States, Canada and Mexico. For additional information visit www.dillonmfg.com, e-mail sales4@dillonmfg.com, call (800) 428-1133, or write Dillon Manufacturing, Inc., 2115 Progress Drive, Springfield, OH 45505.