2016-06-01 17:21:09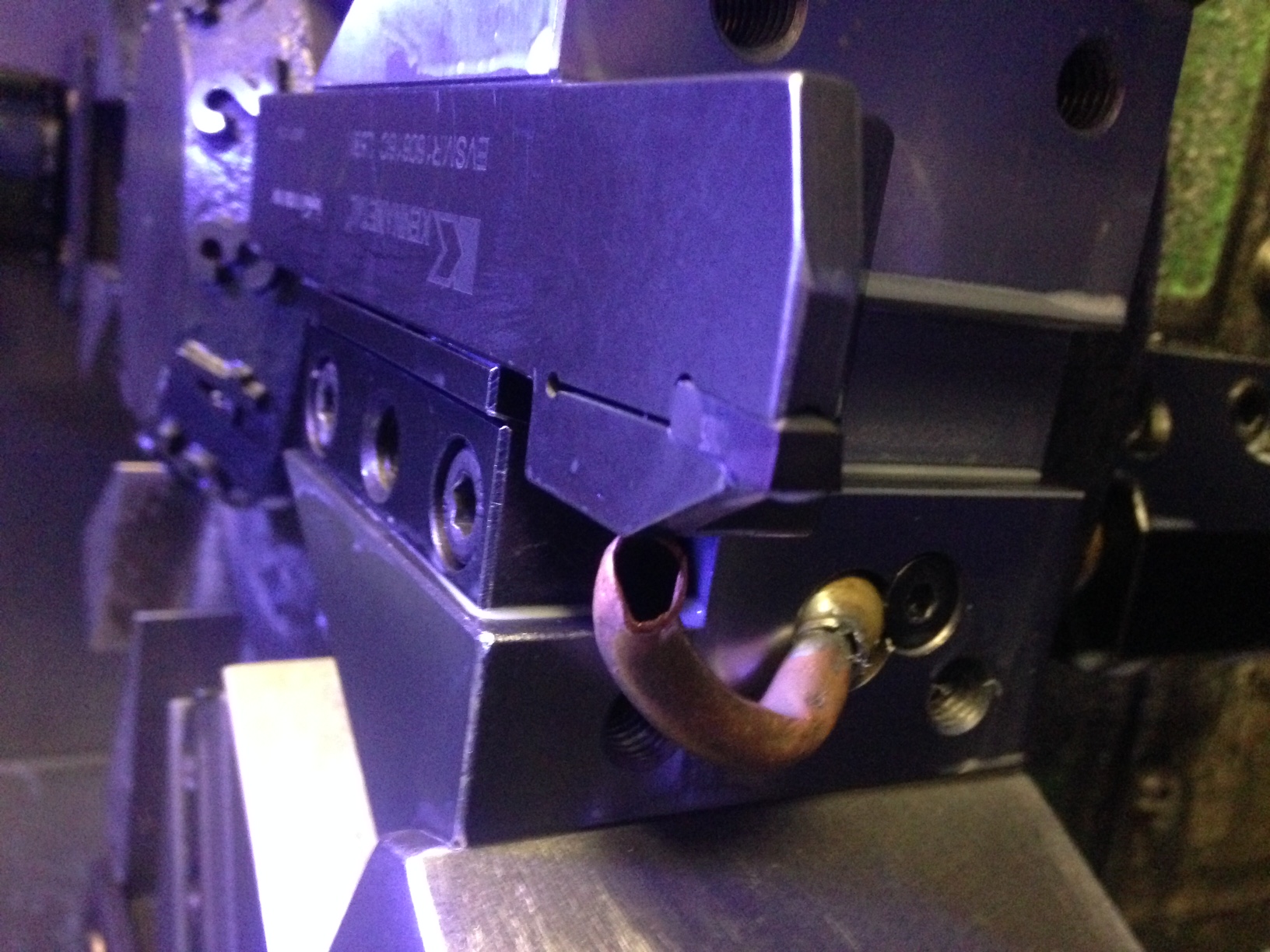 Since the day some ingenious machine tool engineer first mounted a metal tube on an engine lathe, machinists have been looking for a better way to cut off parts. From hand-ground bits to high speed steel blades to indexable carbide inserts, cut-off tool technology has continued to improve over the years, increasing metal-cutting efficiency and lowering operational expenses along the way. One large step in that evolution came with the development over recent years of multi-purpose cut-off tools able to switch hit as grooving, turning, and profiling tools, giving manufacturing companies the ability to simplify setups and shorten production cycles, and in some cases keep fewer tools in the crib.
Searching for simplicity
One such company is EMC Precision, a family-owned and operated precision machining job shop headquartered in Elyria, Ohio. Since 1925, EMC has provided prototype to production machining and value-added services to a range of industries including fluid management, hydraulic fluid & power, automotive, recreational, and other OEMs. Ian Dotson, manufacturing engineer at EMC's Sheridan, Indiana facility says he was happy with the tool life and performance of his existing cut-off solution, and was only looking for a reduction in his tooling costs when he called his local Kennametal distributor, CCA Inc.
The salesperson there introduced him to Kennametal's Beyond Evolution™, a single-sided grooving and cut-off system with multidirectional turning capability, through the tool coolant, proprietary chip control, and "Triple V" secure seating geometry. Dotson admits he wasn't too concerned about the bells and whistles, as long as the tool performed as well as what he was already using, and saved the company some money. He was pleased with the results.
"We were using a 0.118 in. wide (3 mm) PVD-coated insert to cut off 0.75 in. diameter (19 mm) 4140 steel hydraulic actuators," he says. "We swapped out the old tool for a Kennametal Beyond Evolution cut-off and kept the feeds and speeds the same. After several runs, we determined tool life was essentially identical, so from a performance perspective there was no difference, at least not on this job. But the Beyond Evolution inserts are dramatically less expensive, roughly 40 percent of what we were paying for our legacy tools. It was a clear win for us."
Triple time
The next win came on a job Dotson was running on one of EMC's Daewoo Lynx 220 CNC lathes, a transmission gear shaft made of 1-1/4 in. (32 mm) 8620 steel, and using a 0.236 in. wide tool (6 mm) to back turn a journal on the left side of the part prior to cut-off. In this application, insert cost was still a concern, but Dotson's primary goal was tool life improvement.
"The Daewoo isn't equipped with high pressure cutting fluid, and the standard pump was unable to generate enough pressure for us to utilize coolant through the tool on our old cut-off system," he explains. "Because of this, we've been stuck with flood coolant, and have always had some chip control issues as a result—the chip would roll back on itself and starve the cutting edge of coolant."
Despite the less than perfect cutting conditions, the Beyond Evolution performed beyond expectations. "We achieved very good results," says Dotson. "This time we increased the cutting speed a bit, from 350 to 400 sfm, and bumped up the feedrates by about 30 percent. Even so, tool life increased threefold, to just over 2600 pieces per insert. I'm confident we could have cranked up the feeds and speeds even more, especially if we had plumbed the tool for coolant through, but there was no need. This operation supplies another machine, and that one was already running as fast as it could go. The big thing for us was getting more parts between tool changes, and that's exactly what the Beyond Evolution did. It's an excellent product at a very competitive price point."
Photo: Even without high pressure coolant, Beyond Evolution™ increased tool life three to one compared to EMC Precision's legacy cut-off system. Source: Kennametal