2017-09-17 19:11:23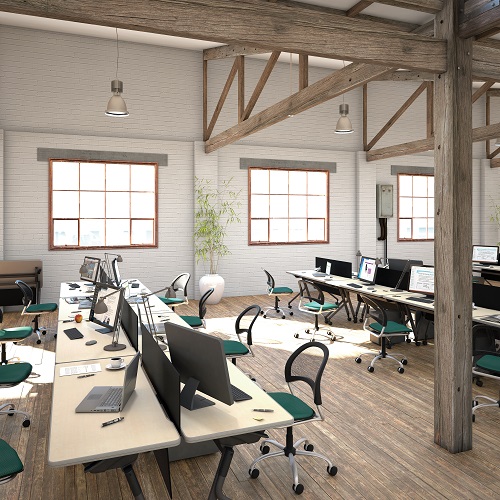 Photo credit: OFM, LLC.
By Blake Zalcberg, President at OFM, LLC
A large-sized company recently asked me to help them pick some trendy new office furniture that would attract millennial workers.
If only it were that easy.
As the head of a family-run furniture manufacturer and distributor, it would be great for my business if everyone had to go buy all new desks and chairs every few years to attract the next generation of workers.
But the truth is that a company's culture and values matter more than its office design when it comes to recruiting a new, younger workforce. Some cool new pieces of furniture may help with first impressions during an interview, but they aren't going to make a difference on their own.
That's not to say that office design doesn't matter. It does. But it matters because of what it reflects about things your business is already doing. In other words, it's an effect, not a cause.
If you run a creative company that constantly generates new ideas, you're going to have a more airy office with bright and bold colors.
If you run a team-oriented company that thrives on collaboration, you're going to have a more open design with lots of interchangeable chairs.
If you run a fast-growing company that keeps adding new employees, you're going to have a lot of modular furniture with lots of side areas where people can work.
But you can't change the company culture just by buying some new, trendy furniture. If you put taller tables with built-in outlets in your cafeteria, but no one in the office has a laptop, they won't be used. If you have side areas for people to work, but the office manager always asks why you aren't at your desk, no one will use them.
Here's how to think of it: Office furniture is a manifestation of your company values. It's how you send a message to your internal customers—your own employees—about how the company works and what it thinks is important.
All the decisions you make as you design an office both shape and reflect those values: Open office or traditional cubicles? Big corner offices for management or similar workspaces for everyone? Lots of glass and metal or mostly leather and walnut finishes?
Those simple decisions will shape how your workers approach their job, but they can't be made in a vacuum. If you want to attract a more forward-thinking workforce, you need to understand their values and make sure your company aligns with them.
So what are those values?
Surveys show millennial workers want a workplace that aligns with their personal values, one that works to make the world a better place rather than simply pursuing a narrow agenda of making profit. And, according to one recent study, they're willing to stay loyal to a company if they know they'll get annual pay raises and opportunities for advancement.
As a report on millennial workers by Pricewaterhouse Coopers found, companies like Google and Apple that are best able to attract talented millennials are naturally innovative.
"These companies are not specifically targeting millennials, but their culture, management style and approach to recruitment and retention naturally appeal to the millennial generation," the report found. "And because of that, they are able to take their pick of the best younger talent around."
The other problem with this request for new furniture was that it was aimed at attracting millennials, assuming that group is interchangeable with forward-thinking workers.
But creative and innovative employees come in every generation, and you're going to need all of them if you want to move your business forward.
An office full of super-creative junior staffers who are supervised by traditionalist managers is a recipe for frustration and high turnover.
If you want to turn your business around, innovate more and attract more creative workers, start by looking at your business model, your office culture and your hiring practices. Your furniture choices will follow naturally from there.
Blake Zalcberg is president of OFM, a family-run furniture manufacturer and distributor headquartered in North Carolina with distribution centers there and in California, Kansas, Pennsylvania, and Washington state. For more than twenty years, it has provided affordable and quality furniture through a nationwide dealer network, offering the latest concepts and designs for a variety of markets including home and hospitality, businesses and government, and health care and education. Working with manufacturers in Mexico, Taiwan and China, OFM designs furniture to meet the highest industry standards which are sold through a variety of retailers, mail-order catalogs, and online dealers including Staples, Wayfair, Overstock, and National Business Furniture. To learn more about OFM, visit: http://www.ofminc.com
This article originally ran on LinkedIn at http://bit.ly/2gt31Ii.