2016-09-19 14:00:24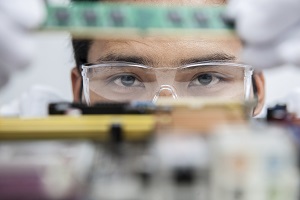 By Ken Prater, senior editor
Arguments for more skilled manufacturing workers has been going on for years. Companies have been partnering with colleges to develop more technical programs. Headlines broadcast the hundreds of thousands of U.S. manufacturing jobs that are never filled.
But is this howling for more skilled manufacturing workers based in reality? Or is it merely a public relations campaign to counteract the declining jobs numbers caused by automation?
According to media site FiveThirtyEight.com, the skills gap may be more fabrication than truth.
"This "skills mismatch" theory is a favorite of corporate executives and the think tanks they fund. But it is based on scant evidence. "
"Rather than degrees or licenses, what employers say they are struggling to find are workers with industry-specific skills, such as how to program the machines that do much of the physical work in modern factories. But according to a new paper by economists Andrew Weaver and Paul Osterman, companies looking for workers with specialized computing skills don't have any more trouble filling their vacancies than anyone else. (Advanced math was more of a stumbling block.) And three-quarters of manufacturers that Weaver and Osterman studied weren't having trouble finding workers at all. Other researchers have similarly found little evidence for a serious skills gap, either in manufacturing or in other sectors."
FiveThirtyEight.com looked at other data as well such as pay scales (higher demand and scant supply should drive pay up) and the tendency of employees to be poached from one company to another. (Neither is happening.)
One possible conclusion:
"Weaver and Osterman offer a more industry-specific explanation: The manufacturing industry has become so specialized that companies are looking for hyperspecific skills that few outside workers could be expected to have. But companies have also become less likely to offer training for new hires. Companies, the authors write, 'are unwilling or unable to solve their skill challenges through internal training, even for skills that are highly specific to a particular plant.'"
Read the full article "Don't Blame A 'Skills Gap' For Lack Of Hiring In Manufacturing" at http://fivethirtyeight.com/features/dont-blame-a-skills-gap-for-lack-of-hiring-in-manufacturing/.