2018-04-22 22:38:47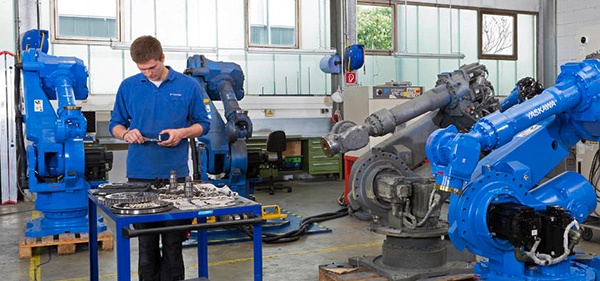 By Steve Klopfenstein is Senior Manager, Retrofit Systems and Refurb Center at Yaskawa America, Inc. - Motoman Robotics Division
Implementing a cutting-edge automation system can deliver exceptional speed and precision, leading to reduced cycle times, increased production volume, and less waste or rework. While the right combination of innovative solutions, tailored to exact application requirements, can deliver transformative results, there comes a time when parts become obsolete, machines break down or process needs change.
Best practice is to effectively manage the life cycle of a robot or automation system to ensure maximum performance and return on investment (ROI) over the life of the asset. This is often done through retrofitting, where an existing configuration is changed or upgraded on original equipment. But in today's manufacturing climate, is retrofitting still a cost-effective solution?
Customer needs are changing and becoming more diverse, putting pressure on manufacturers to alter processes to meet demand. Conforming to a new way of doing things entails considerable planning, and the decision between upgrading a robotic system and buying a new solution should always be weighed to make every investment dollar count. While adding an extra five to ten years onto the life of an existing robotic cell may not seem like the best choice for manufacturers, retrofitting is a more viable solution than many manufacturers think.
The uncertainty to retrofit a robotic system is common. From downtime to cost, there is much to consider. Concerns about low quality parts and confusion over what to retrofit have been valid worries in the past. Manufacturers can gain confidence, however, in the fact that technological advancements and safety standards have greatly improved part quality in recent years.
When smaller components, such as a power source or welding torch, become old and fail to deliver the desired quality, the decision to retrofit may be easier to make. In most cases, a solution can be agreed upon over the phone with the automation system's OEM or robotic integrator. Based on customer need, delivery and installation of components can vary – with 50% of manufacturers installing newer equipment on their own.
Robotic companies are savvy to client needs, creating options to enhance products on a regular basis. Moreover, customer satisfaction groups are delivering diverse support services to help maximize uptime and optimize ROI to guarantee long-term success, making it easier on manufacturers to move forward on tough decisions. If needed, OEM representatives can do site visits to determine the best retooling and equipment options to meet application demands.
If a retrofit is being considered because of a safety issue or a process change, a risk assessment may be required. American National Standards Institute (ANSI) safety standards must be followed and should be paramount when making any retrofitting decision. Another idea for manufacturers to consider is the concept of utilizing certified pre-owned robots during a retrofit. This is a growing trend and often a more affordable option for small job shops and medium-size companies.
Budgeting financially and planning for retrofitting is crucial to operational success. Some suppliers with lights-out manufacturing have proven this, changing key automation components every two to three years as part of a preventative maintenance initiative. Other manufacturers know that keeping-up with the latest technology can help maintain a competitive advantage and reduce energy consumption. No matter the reason, adding system options via the retrofitting process is a worthwhile solution to maintaining operational success.
Reprinted from https://www.motoman.com/blog/retrofitting-automation-system-success