2017-12-13 04:11:35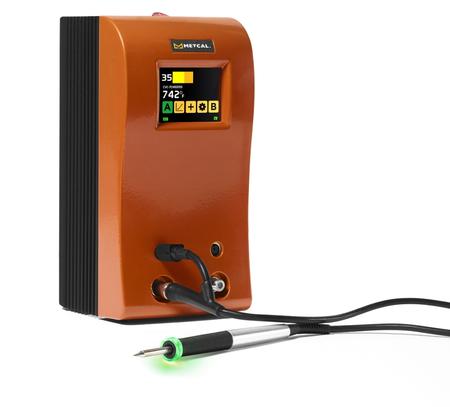 Metcal CV-5200 Connection Validation™ Soldering Station is now sold by Ellsworth Adhesives Europe.
Manufactured with an embedded, self-regulating heater, Metcal CV-5200 has been developed to deliver the desired amount of power based on the requirements of the solder joint whilst ensuring a fast, safe and repeatable process with no calibration required.
The Connection Validation™ software offers not only control of the tip temperature but also smooth operation in real time with closed loop feedback via a green or red light integrated into the handpiece, to indicate intermetallic compound formation.
Metcal CV-5200 is designed to deliver the right amount of power based on the requirements of the solder joint using SmartHeat® technology. SmartHeat® technology is built-in to all Metcal soldering systems to automatically ensure a consistent soldering iron tip temperature under a wide range of thermal loads, practically without external adjustments.
With the additional advantage of repeatability and a measurable standard to enhance the soldering process, Metcal CV-5200 complements the skill of the operator to determine the quality of the solder joint whilst ensuring an objective method of evaluating the solder joint as a whole.
A unique feature of this soldering system is its ability to evaluate the quality of the solder joint by calculating the intermetallic compound formation and offering feedback to the operator. By doing so, Connection Validation™ takes the risks associated with soldering out of the hands of the operator, yet assuring a good solder joint.
The CV-5200 model improves quality and mitigates risk, enhances process control and improves compliance. Metcal CV-5200 is particularly advantageous in the production of automotive, aerospace, military and medical device products.
Ellsworth Adhesives Europe is an official distributor of Metcal Soldering Products.