2018-04-15 22:32:24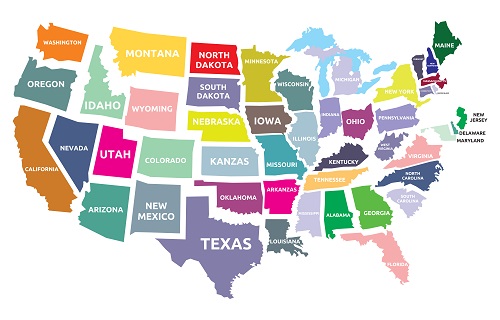 The manufacturing expansions, mergers, and acquisitions by state in the last 30 days. Don't see your state? Send your expansion, merger, and acquisition news to editor@mfrtech.com to be included in next month's round-up.
Indiana
MonoSol, a global manufacturer of water-soluble films, announced plans to invest $72 million to construct a new 150,000-square-foot, high-tech production manufacturing facility in Boone County.
Japan-based M&C Tech Indiana, a manufacturer of automobile parts, opened its manufacturing center in Washington. In 2016, M&C Tech Indiana announced plans to invest $4.6 million to build a 40,000-square-foot factory on 6.2 acres near County Road 200 E in Washington to manufacture plastic parts for the automotive industry. With its growth, the company announced plans to create up to 70 new jobs by 2021.
ElringKlinger, a global manufacturer and supplier of auto parts, plans to expand its operations to Indiana, establishing a facility in Allen County. The company, which designs, manufactures and distributes innovative aluminum and plastic automotive parts, will expand its global operations into northeast Indiana, constructing a 60,000 square-foot shell building at 2677 Persistence Drive in Fort Wayne.
Jasper Group, a manufacturer of seating and casegoods products, plans to expand to Orleans, purchasing a new manufacturing site and creating more than 300 new jobs by 2021.
Illinois
Ryerson Holding Corporation (NYSE: RYI), a value-added processor and distributor of industrial metals, has acquired Fanello Industries, a privately-owned metal service company located in Lavonia, Georgia.
Michigan
JR Automation, a provider of intelligent automated manufacturing and distribution technology solutions headquartered in Holland, Michigan, has acquired Setpoint Systems and Setpoint, Inc. The Setpoint companies are based in Ogden, UT and create automation solutions for the e-commerce, amusement, and other industries.
Ohio
Adaptive Corporation has acquired the Dassault Systèmes software sales and support business division of NobleTek. NobleTek customers will now have access to a broader segment of the Dassault Systèmes portfolio as well as laser scanning, metrology and 3D-printing products.
South Carolina
Automotive supplier Magna International is investing $8 million in an expansion to its seat manufacturing plant in Spartanburg County, according to the GSA Business Report. The company's seat manufacturing plant, which supplies seats to the BMW Group, will be expanding by 25,000 square feet and adding new shipping bays to accommodate increased customer volumes.
Per Columbia Regional Business Report, Universal Forest Products is investing $6.1 million in a new manufacturing facility in Orangeburg County. The plant is expected to create more than 120 jobs during the next few years.
Tennessee
Automotive parts manufacturer, Dorman Products, will build an 815,000-square-foot facility in Portland. Once construction is complete in 2019, Dorman Products will relocate its existing Portland operations to the new facility. Dorman will invest more than $55 million.
One of world's largest manufacturers of buses, coaches and industrial vehicles, Van Hool, has selected Morristown, Tennessee for the site of its first North American manufacturing plant. Van Hool, which is headquartered in Koningshooikt (Lier), Belgium, will invest more than $47 million in a new 500,000 sq. ft. facility used predominantly for building public transportation buses. Initial production output is estimated at 400 buses annually. Construction will begin in mid-2018 with completion scheduled for 2020. Van Hool officials say they expect to hire approximately 600 workers.
South Korean automotive battery manufacturer ATLASBX, Co. Ltd will invest $75 million to build its first U.S. manufacturing facility in Clarksville. ATLASBX, a sister company of Hankook Tire, plans to create approximately 200 jobs at the new plant in Clarksville, which is expected to be operational in 2020.
Automotive seating supplier Adient will invest $10.8 million and expand production at its manufacturing facility in Lexington. Adient will create 200 jobs as part of its investment in Henderson County.

Virginia
Tessy Plastics, a premier molder of custom injection molded plastic components, will invest $9.2 million to expand its manufacturing operation to accommodate a new product line in the City of Lynchburg.
Mohawk Industries, the leading global manufacturer of residential and commercial flooring products, will purchase new equipment and expand its manufacturing operation in Carroll County.