2016-08-30 17:17:53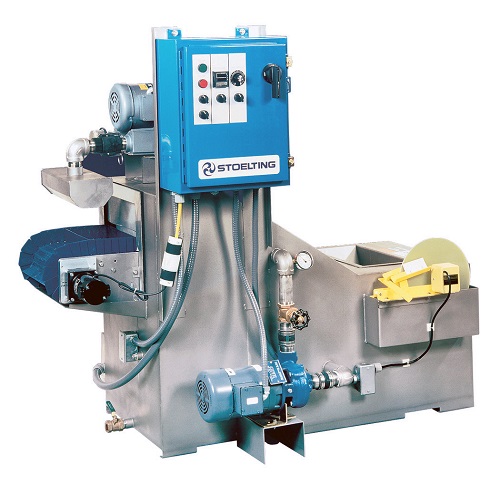 Stoelting Cleaning Equipment, a division of Vollrath Company and manufacturer of custom spray and ultrasonic cleaning equipment, will give attendees an exclusive opportunity to immerse themselves in Stoelting's technology, process solutions and engineering advancements at the highly anticipated International Manufacturing and Technology Show (IMTS), held from Sept. 12-17 in Chicago, Illinois, at McCormick Place.
Stoelting will be located in booth NC-105 in the North Building, Hall C.
Stoelting will exhibit fundamental product solutions designed to help operators reduce costs, increase profitability, conserve limited resources and meet tightening purity requirements.
Equipment to be showcased include:
Cabinet Spray Washer. Stoelting's Cabinet Spray Washer is used for a variety of industrial parts cleaning applications including aluminum extrusions, formed metal cylinders, shock absorbers, wheel rims and bearings. The unit comes standard with load capacities from 300 pounds to 40,000 pounds and turntable sizes that range from 24 inches to 120 inches in diameter. The spray washer includes cycles for wash, rinse and blow-off.
Lewis Large Series and Nearfield Ultrasonic Tank Systems. Removing difficult contaminants in short cycles, Stoelting's ultrasonic cleaning systems deliver industry-leading cleaning energy to both small and larger mass parts. Nearfield cleaning systems are powered by opposing magnetostrictive transducers operating at different frequencies. Applications include removing buffing compounds from polished parts, removing grinding swarf from surgical needles, and critical cleaning of high throughput automotive parts. Stoelting's on-site testing lab and engineering team at its headquarters in Kiel, Wisconsin, can determine the correct process parameters for any application, including part orientation, process times, stages and chemistry.
VersaForce Versatile Cell Washer. Designed for manufacturing cells, the VersaForce Versatile Cell Washer features a compact design with flexible construction options including in-line, stand alone and U-bend. It has an exclusive spray tube design and adjustable air knives. The machine can also be configured with Stoelting's innovative squeegee technology.
Mini Parts Washer. A popular compact conveyor cleaning system for small parts such stampings, hardware, small machined components and bearings, the Stoelting Mini Parts Washer comes standard with six-inch to 12-inch belt widths, along with automatic loading, cleaning and unloading. Previously requiring an eight to 10-week lead time, a standard Mini Parts Washer purchased after the IMTS Show will be available to ship in three weeks with Stoelting's new Quick Ship Program. Custom units may require the longer lead time.
Vollrath Manufacturing Services. Manufacturing capabilities include deep draw, metal stamping, metal fabrication, metal spinning, precision plastic injection molding, and plastic fabrication, along with several secondary operations and turnkey solutions such as custom tooling, packaging and inventory management.
Photo: Stoelting Mini Parts Washer