2016-08-15 18:01:35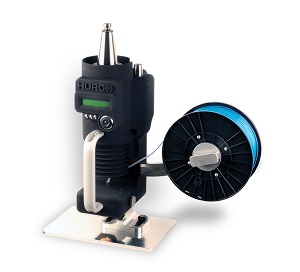 Owners of Hurco vertical machining centers will have the ability to transform their WinMax part programs to a 3D printed rapid prototype directly on their CNC machine using an optional spindle-powered wireless accessory Hurco will unveil at the International Manufacturing Technology Show (IMTS). The 3D Print Head which extrudes plastic PLA filament will be exhibited at the Hurco booth and at the Additive Conference.
The portable accessory is powered and controlled by spindle rotation, so there are no wires to install, and it can easily be moved to other Hurco machining centers within a shop. It was designed to make it easy for people who have no solid modeling experience. Hurco's WinMax programming environment uses conversational programming that is known for its user-friendly and intuitive user interface and the control's support of standard M&G code programming.
Once you program the part, simply select the WinMax 3D Print button to start the build process on the Hurco CNC machine or to a commercial 3D printer.
To download a free trial of WinMax with 3D Print, go to Hurco.com