2018-05-30 02:28:14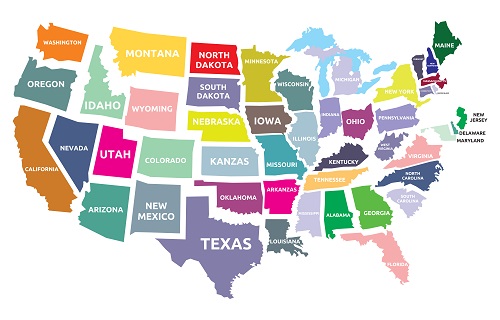 The manufacturing expansions, mergers, and acquisitions by state in the last 30 days. Don't see your state? Send your expansion, merger, and acquisition news to editor@mfrtech.com to be included in next month's round-up.
Alabama
Hyundai Motor Manufacturing is investing $388 million to construct a plant dedicated to manufacturing its Theta III engine heads and to enhance existing operations and support production of new models of Sonata and Elantra sedans. The investment will create 50 new jobs.
Illinois
AB Specialty Silicones expanded its Waukegan plant. Enhancements include a new reactor that dramatically increases the company's annual specialty fluid production capabilities and a tripled capacity to store raw materials and finished products.
Indiana
Green Cubes Technology, which develops and manufactures advanced battery power systems for global OEMs, announced plans to invest $1.8 million to build a larger facility in Howard County to serve as its global headquarters, technology center and manufacturing site.
Tian Yuan, a producer of plastic resin materials, will invest $2.3 million to lease and equip a new 27,500-square-foot manufacturing facility in Washington County.
Michigan
The Tooling Tech Group of Fort Loramie, Ohio has acquired Century Tool Group, which includes both Century Tool & Gage in Fenton, Mich., and CTG Bel-Kur Automation in Temperance, Mich. Century Tool Group is a multi-faceted engineering and manufacturing company, providing fully machined, precision compression molds, automation equipment, and secondary fixtures to North American automotive and heavy-truck OEM's and Tier 1 suppliers.
Burke Porter Group, a global manufacturer of intelligent machines, completed its purchase of Van Hoecke Automation, a Belgium-based global supplier of production automation and product manipulation and control in the food processing and automotive industries.
Thanks to increased demand for its trim, molding, decorative parts, body structural parts, set frame systems, and roof racks, China-based Plastic Trim International, Inc. announced plans to expand its Baldwin Township plant by adding more than 42,000 square feet of space and upgrading technologies.
Troy-based Meritor, Inc. acquired all of the assets of Howell-based AA Gear & Manufacturing, Inc. and its subsidiaries. AAG is a privately-held manufacturer that provides low-to-medium volume batch manufacturing for complex gear and shaft applications.
New Jersey
Lakewood-based UNEX Manufacturing, Inc., which provides order picking solutions, acquired SpeedCell Storage Systems of Zeeland, MI. SpeedCell provides high-density storage solution products.
Ohio
Maroon Group LLC, a distributor of specialty chemicals and ingredients across North America, has acquired J. Tech Sales, a national distributor of specialty chemicals and ingredients.
Pennsylvania
Hardinge Inc., a global provider of advanced metal-cutting machine tool solutions and accessories, was acquired by Privet Fund Management LLC.
South Carolina
Kemper Corp., which manufactures cargo securement products, will expand to its existing production facility to 18,000-square-foot.
Meritor, a global supplier of drivetrain, mobility, braking and aftermarket solutions for commercial vehicle markets, will invest $5.2 million in its Manning operation.
Tennessee
Boat manufacturer, Excel Boat Company, LLC will invest $9 million to establish a new manufacturing facility in Ridgely, expecting to bring nearly 200 new jobs over the next five years.

Film, bag and resin manufacturer Petoskey Plastics, Inc. will invest $29 million to expand its operations in Morristown.
Defense contractor, Chemring Group, will invest $40 million to expand its Kilgore Flares operations in Hardeman County. Kilgore Flares Company is a manufacturing company within Chemring Countermeasures USA , a division of Chemring Group and producer of defense countermeasures for the U.S. military.
Dong-A Hwa Sung Co., LTD. will locate its first U.S. operations, Dong-A USA, Inc., in Martin. The home appliance and automotive supplier will create approximately 220 jobs and invest $13 million in Weakley County, which represents the largest and only foreign direct investment in Weakley County's history.
Virginia
Arconic Inc., formerly known as Alcoa, will relocate its global headquarters from New York City to Fairfax County.
Central Virginia Manufacturing, a sheet metal fabricator, will invest $300,000 to expand its operation in Bedford County.
TemperPack, a Richmond-headquartered manufacturer of sustainable thermal insulation for the shipment of perishable goods, will invest $10.4 million to establish a manufacturing operation in Henrico County.
JTEKT North America, a producer of bearings, driveline components, steering systems and machine tools, is investing $19.4 million to expand its existing Koyo Bearings production facility in Oconee County.
Increased demand for its heat exchangers has resulted in Provides US, Inc., to add 50,000 square feet of additional production space to its operations in Augusta County. The company $897,000 investment also includes new equipment.