2017-04-20 19:31:41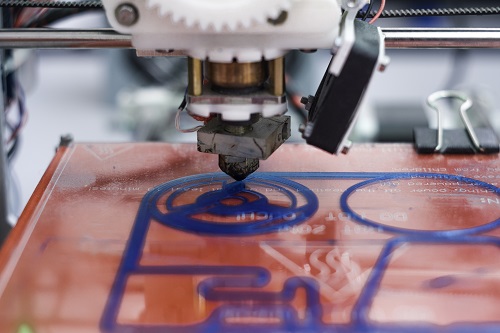 3Diligent, a rapid manufacturing services provider that connects manufacturers to 3D printing vendors through its online RFQ process, recently evaluated how its customer base was using 3D printing.
One of the findings? The average spread between a low bid and a high bid was 284%.
In its write-up of its discoveries, 3Diligent said the following regarding the price differences:
To put that in dollar terms, a customer might submit an RFQ and 3Diligent would utilize its matching algorithm to identify partners in its supply base that are optimal fits for the project. Of the bids that come back, a typical low price might be $1,000 vs. a high price of $3,840, a full 284% more than the low bid (Fig. 5).
Further, the analysis found that the spreads could oftentimes be much larger. In fact, the high bid was more than five times the low bid 17% of the time. It was more than double the low bid 59 percent of the time. Conversely, only 11% of all RFQs had spreads of less than 20% between the low and high bid. (Figs. 5 and 6)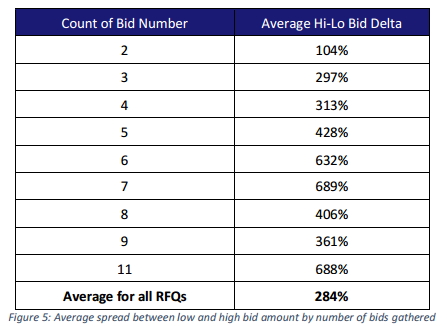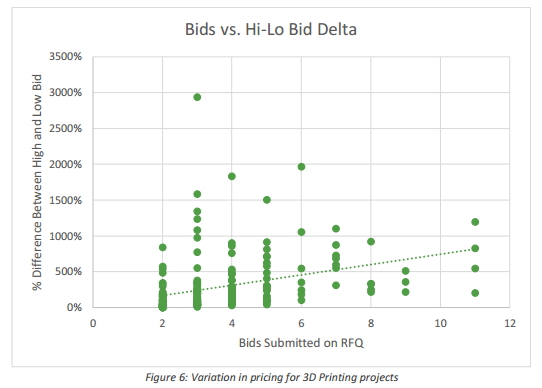 As you would expect, the average spread between low and high increased as more bids were gathered. However, a point of diminishing returns appeared to be reached once six bids had been gathered on a particular project.
Implications
This data is interesting to parse, because there appear to be a number of things happening. The first thing to note is that this data is not an inherent indictment of certain providers offering extremely high prices and others offering extremely low prices for the exact same combination of machine, material, finish, and turnaround time. Second, part of 3Diligent's vetting criteria is value, so any providers who charge excessively have already naturally been removed from the data set. Third, different service providers on any given project have their own set of available machines and materials, and putting a best foot forward can take a very different shape depending on the provider at hand. The best solution is commonly not the cheapest solution, and 3Diligent's order history supports that thinking.
With that being said, it cannot be denied that the data strongly supports the notion that we're in either a highly inefficient market or one where a particular depth of knowledge is required to navigate the range of options. Most likely a good bit of both. While the providers submitting these bids may not have presented the exact same machine or material, they all submitted bids with an expectation that their solution might sufficiently meet the needs of the application. Otherwise, they wouldn't have bothered working up a bid.
So, to sum it up, there's a lot of potential value to be had by utilizing multiple sources of supply. Companies seeking an optimal solution shouldn't feel wedded to a single provider, and as they explore options, it's important that they have the knowledge base to parse through competing options or to work with providers that can lend this support.
To view the full 3Diligent report, visit http://www.3diligent.com/3diligent-state-professional-industrial-3d-printing-special-report/.