2016-07-19 20:18:20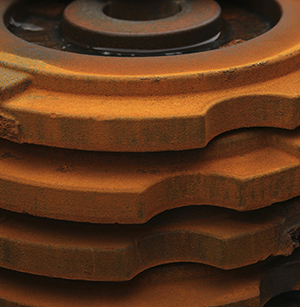 By Nico Cottone, President, SurfTech
Summer brings rising temperatures and humidity. While we all appreciate the warmth outside, in many manufacturing plants this leads to higher humidity levels and warm/cold cycles that make ideal conditions for surface rust and corrosion on metal parts. Surface rust and metal parts don't mix well. While most manufacturers mandate industry 'rust protectants' (RP) for work in process metals, sometimes parts aren't consumed into finished products before the RP solution no longer protects the parts. In this case, with the relentless attack of corrosion, some surface rust may appear. While it doesn't usually dimensionally change the metal part it does threaten to stop production or worse—cause a rework situation.
If you live in the green and blue areas below, chances are you battle humidity-accelerated rust on parts needed to assemble your products.
More than half the United States struggles with medium to high humidity nine months of the year and especially during the summer months. If you are based in these areas or ship parts to humid areas, you have a battle on your hands to keep parts intact, working, and fitting properly.
Fighting rust is a necessary element of most manufacturing processes but you don't have to do it alone.
Other Causes of Rust
First, let's look at reasons other than weather that add to rust wars:
Rust protectants 'wear off,' after 15 to 30 days depending on exposure—re-application is needed in this case if parts 'outlive' this period

Staging or storing materials outside exposed to the weather

Staging or storing materials by open or frequently opened doors

Long storage times in high-humidity environments such as poor ventilation in buildings

Water-based coolant fluid from manufacturing process

Buildings located near briny bodies of water (Mid-Atlantic states)
The solutions to rust removal vary based on the type of metal, the kind of part to be cleaned, and its size. Believe it or not, small threaded parts often present the biggest challenge.
Many OEMs choose to do the work themselves. That can be challenging. Manual parts cleaning is very costly and often not effective for long. Chemical cleanses are a better alternative but there are safety concerns the waste by-product created causes environmental issues that take time and money to resolve.
Professional finishers often offer a variety of specific treatments for the exact types of materials and corrosion issues. Things like mild acidic washes, neutral and caustic baths, barrel tumbling, vibratory treatments, tumble blasting, and spinner hanger blasting.
About the Author
Nico Cottone is President of SurfTech and Mechanical Finishers. Mechanical Finishers has developed techniques for treating rust that will save the part. The rust gets removed without altering dimensional characteristics. Our chemical treatment is unique in many instances and we go one step farther than most by adding a rust preventative agent to finish the job the right way. http://mechfin.com.