2018-09-18 00:41:28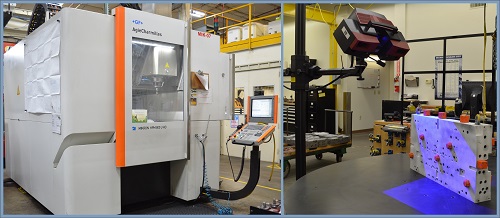 G.H. Tool & Mold, a Tooling Tech Group (Macomb, Mich.) company and a supplier of die cast tooling and machining services, has expanded its precision machining and technical capability with the addition of a new high-speed 5-axis Agie Charmilles machining center and an ATOS digital blue light scanner for measurement inspection. With these investments, G.H. Tool's goal is to further reduce customer delivery times while enhancing quality.
The new trunnion-style Agie Charmilles Mikron joins three other high-speed 5-axis machining centers used for precision machining of die cast dies and aerospace tooling. The new optical 3D digital scanner joins multiple Brown & Sharp DCC Gage CMMs and Romer portable arm CMMs with laser scan capabilities in G.H. Tools Quality Assurance Lab. The new technology will be used to identify any deviations between the physical tooling component and the 3D CAD model in high resolution graphical representation. A significant benefit of this equipment is the ability to dynamically view output results by both the G.H. team and customers using a WEB viewer.
Founded in 1983, G.H. Tool & Mold is well-respected within the die cast tooling, aerospace, and general machining industries for its consistent ability to provide partners with a competitive productivity advantage through innovative tooling solutions. The company has continued to grow by offering its customers superior service, and in 2015 became a part of the Tooling Tech Group.