2016-10-12 14:57:33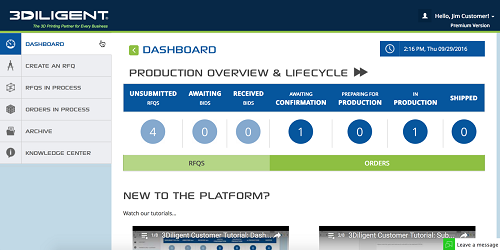 3Diligent now offers three services for accessing its marketplace for professional and industrial 3D Printing.
The new services are:
3Diligent Marketplace (Free) - Allows manufacturers to submit an RFQ and receive a number of bids from 3D Printing vendors with entry level "prosumer" machines and materials. It is designed for fast turnaround projects and idea vetting – where tight tolerances and specialized finishes are not critical.
3Diligent Marketplace (Premium) - For $99/month, manufacturer RFQs will be shared with outstanding fabricators carrying professional and industrial equipment. Clients will receive multiple bids for their project, with access to the complete range of materials, machines, finishes, and achievable tolerances available. The pricing of the service is designed to be cost effective relative to 3Diligent Direct for customers completing four or more projects per year.
3Diligent Direct - For manufacturers who have confidential projects, less defined procurement needs, or simply require additional support (e.g., production runs), the 3Diligent Direct service provides project management from start to finish, completely eliminating the hassles associated with managing all the providers needed to optimally complete various printing projects. Client RFQs are reviewed by a 3Diligent expert to identify the optimal partner from 3Diligent's database of fabricators.
3D Printing is a high-growth alternative for machining and urethane casting for prototypes or short run production. However, many businesses prefer to avoid the cost and operations challenges associated with owning industrial-grade 3D printers (which can cost upwards of $1 million and require specially-trained operators) or are turned off by the quick rate of printer obsolescence. These companies have traditionally leveraged 3D Printing service providers, but the rate of industry advancement and variability of pricing and quality from one vendor to the next makes working with local providers inherently limiting.
Two-year-old startup 3Diligent has addressed these issues by developing an online platform for rapid manufacturing. It utilizes a proprietary algorithm to give manufacturers and product designers instant access to its network of qualified service providers and rapid quotes.
3Diligent has built a network with more industrial providers and machines than any other service in the U.S., with nearly 300 industrial grade machines representing an annual capacity estimated at $500 million. The company supports a wide variety of printing materials, including resins, plastics, metals, gypsum, and ceramic.
Customers who sign up for a free account at www.3Diligent.com before October 15th will be provided a free 30-day trial and 30% off upgrade code for 3Diligent Premium Marketplace to celebrate the launch.