2018-10-14 23:27:09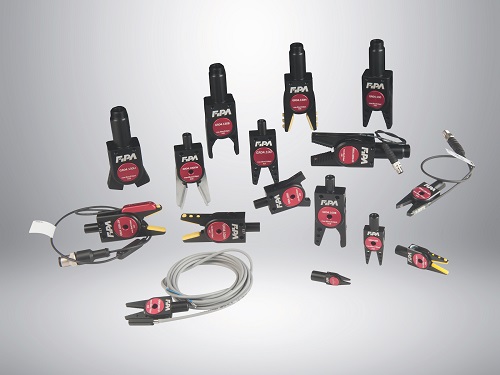 FIPA Inc. has upgraded its line of sprue grippers for handling plastic material. The updated Series 90, 100, and 130 grippers now bear the red FIPA dot, which makes the gripper components immediately identifiable in installations.
The grippers in each of the series offer unique features and benefits. For example, the Series 90 grippers reliably grip small sprues due to their high closing force, wide jaw opening, and compact design while the Series 100 grippers are designed to securely grip medium to large sprues, with gap-free closing for gripping thin, flat sprues. The Series 130 grippers feature strong gripping force and a wide jaw opening, making them ideal for large sprues. FIPA grippers have a long-life cycle due to their high-strength aluminum alloy housing and jaws, with a durable, corrosion-resistant anodized coating.

Direct and indirect "part present" monitoring with sensors
FIPA also offers grippers with and without "part present" monitoring. Grippers with direct monitoring feature large-area, mechanical sensor operation to detect positive gripping, regardless of the sprue dimensions or the part's position in the gripper. Grippers with indirect part monitoring send a signal if no component has been gripped. Some models are equipped with programmable sensors with two teachable outputs. Alternatively, many sprue grippers are available with magnetic sensors. All sensors are available with either PNP or NPN switching output.

HNBR Series – gently grip hot plastic parts
These grippers feature hydrogenated nitrile butadiene rubber (HNBR) soft pads that are wear-resistant and temperature-resistant up to 160°C (320°F) and are free of paint-wetting impairment substances (PWIS). These soft pads leave no scratches or damage even on sensitive plastic parts. Therefore, the HNBR Series grippers are ideal for the removal of sensitive plastic parts from injection molds. Worn pads can be replaced quickly, and the time-consuming installation and removal of the complete gripper, as well as the subsequent test and programming work on the gripper system is eliminated. For the gentle handling of chrome-plated or painted plastic parts FIPA offers the GR04.100HNBR gripper, featuring fully-coated HNBR jaws to handle sensitive surfaces without marking during occasional contact or impacts of workpieces with the gripper jaws.
FIPA Series 90, 100, and 130 grippers at a glance:
• Wide selection: Ideal for a wide variety of applications in the plastics industry
• Long life cycle: Gripper jaws and housing made of high-strength aluminum alloy with protective anodized coating
• Easy to identify: Grippers are marked with the red FIPA dot
Gripper models with sensors:
• High process reliability: Sensors with direct, indirect, and teachable component monitoring available
• Easy connection to control unit: Sensors with NPN or PNP output available
HNBR gripper models:
• Ideal for de-molding hot plastic parts: Temperature resistant up to 160°C (320°F) and free of paint-wetting impairment substances (PWIS)
• Gentle gripping: Exceptionally soft HNBR pads prevent marking or damage
• Time- and cost-saving replacement: Easy clip mounting of the pads without removing the grippers
https://www.fipa.com/en_GB/products/208048-sprue-grippers
http://www.fipa.com
919-651-9888