2017-04-17 15:00:33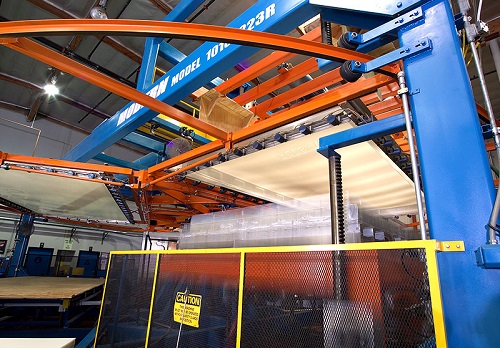 By Jason Middleton, VP of Sales & Development, Ray Products
It could be argued that no plastic manufacturing process is more overlooked than thermoforming. Everyone knows about injection molding and 3D printing is making headlines every day, but what about thermoforming?
Maybe we can chalk up the blame to confusion between heavy gauge thermoforming (used to make durable plastic parts) and thin gauge thermoforming (used to make disposable plastic products, like the clamshells your "to-go" sandwich comes in). Maybe it's due to the fact that a process that's been around as long as thermoforming just isn't seen as very exciting, although modern thermoforming is an advanced, automated process. Whatever the cause, when thermoforming is overlooked, it's a shame. Because, for the right type of projects, it's a process that's hard to beat.
How Thermoforming Works
A quick reminder about how thermoforming works. A sheet of thermoplastic is heated to pliability. Then, it's pressed against a mold. In vacuum forming, the air is vacuumed out from under the mold. In pressure forming, the sheet is both pressed against the mold with pressurized air and vacuumed out from under the mold.
Both processes create similar results, but pressure forming can be a better option when sharper details, molded in undercuts and more complex shapes are required.
After cooling, the molded part is trimmed by a robotic trimmer. At that point, it can be left as-is and look great, or it can be painted, silk-screened and have attachment hardware put on it.
Finding the Sweet Spot: Quantity
Thermoforming's sweet spot can easily be defined by quantity. We typically define that as annual quantities "from the low hundreds to the mid thousands." That's the place where most thermoforming projects are going to be much more cost effective than competing processes.
Thermoforming offers a significantly lower tooling cost than competing processes like injection molding. On the low end, thermoforming usually becomes more cost effective than processes like 3D printing, urethane or fiberglass somewhere around 75 – 300 parts, though specific conditions can make that number much lower.
Other variables come into play, but the below chart illustrates a comparison of typical thermoforming costs vs. typical injection molding costs in a sample 48" x 60" part.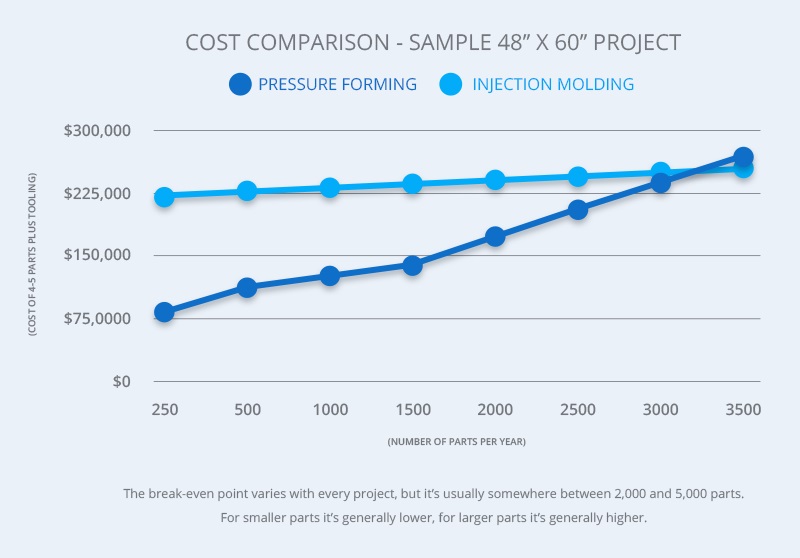 In this example, thermoforming is the clear winner between about 500 and about 2,000 parts, though that will change significantly depending on the size of the project, and material selection.
Finding the Sweet Spot: Size
The bigger the part, the more cost effective thermoforming becomes when compared to injection molding. The largest thermoforming equipment typically available is defined by the transportation capabilities of a typical tractor-trailer. In our factory, our largest thermoformer can accommodate a plastic sheet up to 18 feet by 10 feet, with up to 40 inches of depth.
Because the cost of injection molding tooling increases exponentially with size, you'd have to be making an enormous quantity of injection-molded parts at that size to ever break even.
We typically define the size where we're most competitive as "bigger than a toaster oven, smaller than a pickup truck." Of course, multi-part assemblies could easily eliminate the "smaller than a pickup truck" requirement.
Very small parts are typically cost effective to make using injection molding. Our industry will seldom win bids for making TV remote enclosures or other small parts, but once you get into larger territory, we're hard to beat.
It's also worth remembering that thermoforming is well suited for family tooling, which allows for different parts to be molded at the same time. Every piece that comes out of the thermoformer is robotically trimmed, so separating out multiple parts from a single sheet is easy. This can also often result in significant cost savings.
Finding the Sweet Spot: Other Considerations
Size and quantity are the two biggest factors that define a cost-effective thermoforming project, but there are other considerations worth taking.
One consideration is that thermoforming allows for molding in color and texture. This means that, in many cases, thermoforming can significantly reduce finishing costs.
Another is that thermoforming can increase durability, while reducing weight. Hit a thermoformed panel with a hammer, and it's going to fare much better than either a sheet metal or fiberglass panel. Recently, this quality has made the process very popular with electric vehicle, rail and aircraft manufacturers, where weight and durability are key considerations.
Without getting too far into the weeds, it's also worth mentioning that thermoforming allows for a huge variety of materials. Solid and translucent materials in any color of the rainbow, chemical resistance, fire retardants and so much more. It's difficult to imagine a process that offers more material options than thermoforming.
What It Means
Currently, thermoforming represents a fairly small part of the manufacturing market. To an extent, that will probably always be true. It is, in some ways, a niche process. And every process has its niche.
The biggest challenge our process faces is lack of awareness. We've seen overall awareness grow in the last few years, and that seems to be backed up by growth in the popularity of the process overall.
If you're a thermoformer looking to grow this segment of the industry, our advice is simply to tell more people what makes thermoforming a great option.