2018-01-17 02:27:13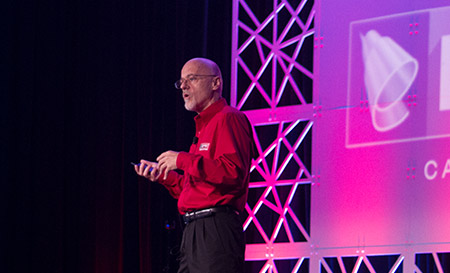 Online registration is now open for the event, which brings together ESPRIT users from around the world for five days of learning and networking — and will take place in the Midwest for the first time ever.
DP Technology's annual conference is back in 2018, and for the first time in its 15-year history, it will be held in the Midwest. After alternating between the East and West Coasts of the United States, ESPRIT World 2018 will be located in Indianapolis, Indiana, June 11-15, making the event — formerly known as ESPRIT World Conference — more accessible to customers in America's heartland. Online registration is now open for the event, which will take place at the Indianapolis Marriott Downtown.
As with previous years, ESPRIT World will be a time for training, networking with peers in the industry, and hearing about new technologies and the future of ESPRIT.
"When we first held ESPRIT World in 2003, we never dreamed it would evolve into what it is today: a vital, highly anticipated annual event that's attended by hundreds of customers from around the world," says Paul Ricard, president of DP Technology. "We're excited to bring ESPRIT World to Indianapolis and be closer to our customers from the Midwest and East Coast, who have often had to travel greater distances to attend our events in the past. As always, we have an outstanding class and speaker lineup this year, and we hope to welcome more attendees than ever before."
Training, learning and networking
ESPRIT World 2018 is all about sharing the latest tips, tricks, trends and technologies with users. It allows attendees, whatever their skill level, to learn the ins and outs of ESPRIT with a customized schedule of classes on topics including mill-turn and milling techniques, wire EDM, automated programming, post processors, and mold roughing and finishing. For beginners, ESPRIT World 2018 offers a weeklong boot camp option of immersive learning. Classroom training will be augmented by ESPRIT Talks given by speakers across the industry, including members of the DP Technology executive team, machine tool and technology partners, and ESPRIT programmers and engineers. Attendees looking for extra assistance can sign up for one-on-one sessions with ESPRIT support engineers.
Doug Woods scheduled as keynote speaker
Doug Woods, the president of Association for Manufacturing Technology (AMT), will be this the keynote speaker at ESPRIT World 2018. President of AMT since 2009, Woods has a passion for improving sales and market access for association members, promoting innovative manufacturing technology, and putting AMT at the forefront of issues that impact the industry. During his tenure at AMT, Woods has overseen the development of MTInsight, a user-friendly manufacturing business intelligence platform that distills multiple data points to allow for strategic decision making and business planning. He has also led the effort to develop the industry-wide interoperability standard MTConnect.
Founded in 1902, AMT supports and promotes the U.S. manufacturing technology industry. The association provides U.S. makers of manufacturing systems with the latest information on technical developments, trade and marketing opportunities, and economic issues. It also promotes its members' products in world markets, and acts as a manufacturing technology representative to governments and trade organizations throughout the world.
ESPRIT World 2018 sponsors
Sponsorships by ESPRIT's partners make ESPRIT World possible. This year, DP Technology is pleased to welcome DMG MORI as its first-ever platinum sponsor, and Zoller, ANSYS SpaceClaim and CGTech Vericut as gold sponsors of ESPRIT World 2018.
ESPRIT World will take place at the Indianapolis Marriott Downtown, June 11-15. To register, visit http://world.espritcam.com/.