2018-07-04 18:38:13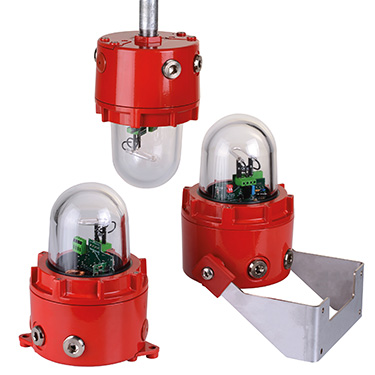 E2S Warning Signals launches new UL approved Division 1 and Division 2 visual signaling devices.
The new Xenon strobes from the D1x family are the brightest UL1971/UL1638 approved signals available for Class I/II Div 1 and Class I Zone 1/20 explosion proof applications. The D1xB2XH2 model has a UL1971 light output of over 190 Candelas with an operating current of only 1160 mA, and the D1xB2XH1 model achieves over 86 Candelas whilst drawing only 635 mA. The strobes feature an innovative lightweight, marine grade, corrosion resistant enclosure that can be either conduit or surface mounted as supplied. For complete mounting flexibility an optional stainless-steel bracket enables the light to be positioned in any orientation. With automatic flash synchronization, low inrush and low operating current more units can be installed per circuit, simplifying system design and reducing cost.
For Class I/II Div 2, Class I Zone 2/22 and IECEx and ATEX Zone 2/22 Installations, the D2x family provides globally certified, high performance, compact signaling devices for the hearing impaired, suitable for hazardous and harsh industrial locations. The new D2xB1XH1 and XH2 are automatically synchronized and supervised Xenon strobe beacons that do not require any additional timing modules. The D2xB1LD2-H LED signal has industry leading low inrush and minimal operating current consumption with a LED lifetime of over 60,000 hours.
In addition to the stand-alone visual warning devices, the E2S range includes combination units that provide ultimate fire signaling for life safety system applications. With sound outputs up to 116dB(A), 64 alarm tone frequencies and 4 remotely selectable stages/channels, the alarm horns can provide safe signaling for multiple scenarios from one device. The integrated LED or Xenon beacon can be linked internally to the alarm horn minimizing cabling and installation time. The entire assembly is automatically synchronized with other E2S units on the same circuit without the need for external modules.
Tel: + 1 281-377-4401
Email: sales@e2s.com
Web: www.e2s.com