2016-04-14 18:31:23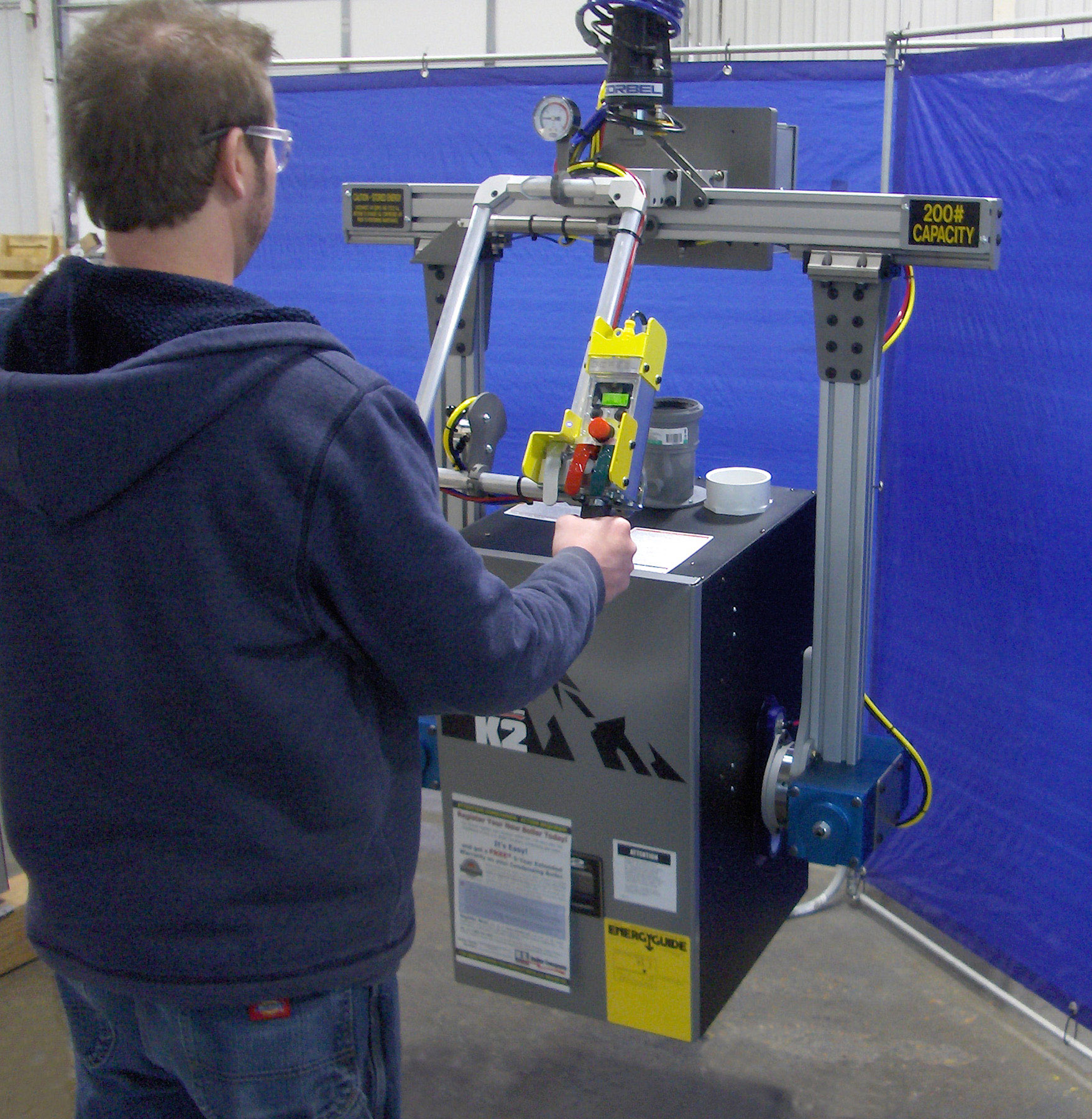 St. Louis, MO – A Cynergy Ergonomics vacuum lifter recently installed for a boiler manufacturer lifts and rotates boiler bodies to facilitate the final assembly and packaging in a faster, safer and more ergonomic fashion. The purpose-built vacuum lifter allows an operator to lift a variety of electric boilers, with weights to 200-pounds, and rotate them for palletizing and packaging. These material handling tasks are accomplished in just seconds, reducing the packaging and palletizing time by half. The vacuum cup tooling provides a firm grip on the boiler without marring or marking it. Prior to installing the Cynergy Ergonomics vacuum lifter, this process was completed by a multi-step manipulation process; now operators can move the boiler assemblies with virtually zero effort. Because of this, users have eliminated their recordable injuries and the inherent problems that surround an elevated risk process.

Cynergy Ergonomics engineers studied the task at hand, along with the plant environment and utilities available prior to recommending a solution. The resulting vacuum lifter uses Vi-Cas VC-90 oval vacuum cups to hold the assembly during the lifting and positioning process, and is powered by compressed air which was readily available nearby.

Cynergy Ergonomics specializes in ergonomic workstations and custom/specialty material handling equipment such as lifts, articulating arm manipulators, sheet, panel and roll lifters, vacuum tube lifting, roll manipulators and material handling equipment. They specialize in lifting device design, lift assist system designs, material handling vertical lifts, manual ergonomic pick and place systems and workstation improvements for manufacturing, assembly, production and distribution centers that currently use human power for material handling as well as providing automated material handling solutions. For additional information visit www.cynergyergonomics.com or call Mike Shannahan at (314) 304-0221.