2016-09-08 19:15:37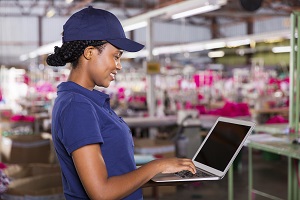 By Insite Software
The below is an edited excerpt from the Insite Software paper "Top 3 Ways to Get Started with B2B eCommerce." To download the full report, visit Insitesoft.com/get_started.
Digital transformation. Digital disruption. Self serve. As a manufacturer, wholesaler or distributor needing to take a first step into B2B eCommerce, you might feel overwhelmed by the seemingly insurmountable magnitude of the undertaking. At the same time, you might be discouraged by the supposed timeline required to implement and reap the rewards of this kind of organizational change. But it doesn't have to be this way.
One of the top three ways organizations can get started fast with B2B eCommerce and show immediate, tangible return on their investment is with a customer self-service order portal.
Customer Self-Service Order Portal
A customer self-service order portal is an easy way to get started with B2B eCommerce. Business buying has changed; now buyers—not sellers—are defining what the sales experience looks like. B2B buyers order, they don't "shop." And they do want to work with a salesperson on more complex transactions requiring live consultation or negotiation. But—like the buying you do in your personal life—today's business buyers prefer to self-serve online for simple orders or re-orders. They want to quickly complete these tasks themselves, whenever they want, 24/7.
Most of these "easy ordering" activities can move to self-service digital channels, with zero degradation— and usually an improvement—in the customer buying experience. A self-service order portal is an easy way you can meet growing buyer expectations in the near-term, while building out a more comprehensive, longer-term digital transformation strategy.
Your Baseline Capabilities
In our experience, at a minimum, you want your customer self-service order portal to enable buyers to:
• Place a simple product order where a buying decision has already been made
• Re-order/re-buy previously purchased product
• Order product that has existing, pre-negotiated pricing
• Request price quotes
• Check inventory levels
• Access customer-specific pricing, products and part numbers
• Self-service on "My Account" activities, such as checking order status and accessing invoice history
Typical Time to Deploy
Deployment of a customer self-service order portal can vary widely based upon business requirements, from four weeks on the low end to a few months on the high end (largely depending on if integrations to back-end systems are needed).
Expert Tips
• To deploy quickly, initially enable online self-service only for those products for which you already maintain good content/information and that don't require configuration.
• B2B is complex. Make sure the technology you consider to power your self-service order portal can easily integrate with your ERP and supply chain management systems, so it can tap into that existing, up-to-date data. You want your buyer's experience to be the same—regardless of whether they buy online or offline—so easy access to data residing in other systems is critical to your long-term success.
Doing nothing in times of change guarantees a less-than-desirable outcome. B2B constantly evolves, so organizations need to change as well. While the journey to a fully connected, digital experience may be complex and takes time, you can reap immediate rewards by making an initial investment now.