2017-10-25 01:57:46
By Teik Chuan Goh, analyst, manufacturing technology at IHS Markit
The problem: China machinery production growth rate plummeted beginning in 2014, with production contracting 0.4 percent in 2016.
Faced with the global economic crisis in 2008, the Chinese government stabilized its own – and, by extension, the world's – economy by implementing its so-called "four trillion" plan. High levels of investment in infrastructure, real estate, and manufacturing sparked a rapid recovery for the Chinese economy. However, by 2014, export growth as well as infrastructure and real estate investments fell, and the Chinese economy settled into a period of weaker growth which has become the "new normal."
In China, manufacturing investment directly depends on underlying economic drivers of exports as well as real estate and infrastructure investments. As a result, production of industrial machinery also entered a period of slower growth. After 2014, the growth rate of machinery production fell rapidly to around 1 percent a year. In 2015 and 2016, it remained low, falling to a record minimum of a 0.4 percent contraction in 2016.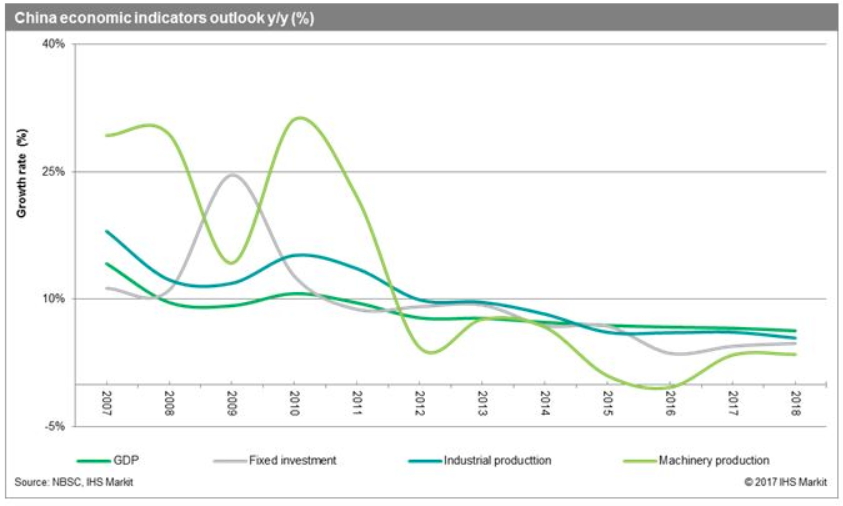 However, in the second half of 2016, machinery production showed obvious signs of recovery which further improved in the first half of 2017. IHS Markit predicts that the machinery production will return to growth of more than 3 percent for the full year in Q3 2017.
Facing the problem: Infrastructure investments, industrial transformation and upgrades, and creation of new markets have become the main growth drivers in machinery production.
Since 2014, in this 'new normal' economic state, the Chinese government has actively undertaken a series of economic and industrial policy actions to stimulate and stabilize the industrial machinery market. Although the value of machinery production fell slightly overall in 2016, revenues from some types of machinery showed signs of improvement in the second half of the year. Reasons for this include:
1. Refocusing new investment: The target is investment in infrastructure that will replace investment in real estate.
The state actively increased its investment in infrastructure to offset the impact of falling real estate investment since 2014. The National Development and Reform Commission and the Ministry of Transport jointly issued "The Major Traffic Infrastructure Three-year Construction Action Plan". This stated that China would focus on advances in its railways, urban rail transit, highways, waterways, and its 303 airports, with a total investment of about $720 billion during 2016, 2017, and 2018 ($321.8 billion, $199.2 billion, and $199.2 billion in the three years). A total of $122.6 billion is planned for 2017.
China will focus on the construction of transportation infrastructure projects under "The Medium and Long Term Railway Network Plan" and "The Three-year Action Plan for Major Transportation Infrastructure Projects". Infrastructure investment is predicted to grow around 20 percent in 2017, to a total of around $2450 billion.
At the same time, a new public facilities construction investment model – "PPP projects" – has been developed. These projects mainly focus on municipal engineering, public utilities, and improving the environment.
Implementation of investment in these infrastructure projects is an important factor in the recovery in machinery production.
2. Industrial transformation and upgrades are equally important in reducing excess industrial capacity.
Since 2008, the development of machinery in China has been concentrated on simple, relatively similar products. There is serious over-capacity for some products, such as paper and paperboard machinery, furnace and furnace burners, metalworking machinery, and others. With deeper reform of supply being promoted, the continued reduction of production capacity and the gradual improvement in the environment of Chinese development of industrial machinery and equipment are also important causes of the renewed growth of machinery production.
3. Creating new demand: domestic and external demand are both essential.
China is actively boosting domestic demand and stimulating consumer spending; this will drive increased sales of machinery directed to producing consumer goods. According to the National Bureau of Statistics, total retail sales of consumer goods in China reached $2640 billion during the first half of 2017, with a year-on-year growth of 10.4 percent. Of this, China's online retail sales were $475.8 billion, a year-on-year growth of 33.4 percent.
The "One Belt And One Road" policy has been pushed forward to develop new overseas demand, including demand for many types of machinery.
The growth rate of machinery production is not free of downward pressure. The downstream industries – such as steel, coal, power and chemical – are in a period of profound change; the demand for equipment cannot be increased in a short time. On the other hand, a wide variety of machinery and equipment have already achieved significant scale. Upgrading of service equipment has become an important part of demand and has already reduced the degree of downward pressure on machinery production. However, this further complicates the increasing of the growth rate.
Major machinery production outlook
In 2015, more than a decade of over 10 percent annual growth in agricultural machinery production ended and growth rates fell. In 2016, agricultural machinery revenues grew just 5.9 percent. In the first half of 2017, growth in production of agricultural machinery significantly declined, especially for tractors, wheat harvesters, and corn harvesters.
Changes in planting, falling food prices, the insufficient purchasing power of farmers, and falling subsidies are the primary causes of declining agricultural machinery production, according to IHS Markit. The structure of development of agricultural machinery products has been unbalanced: the market for medium and low-end products is saturated, while not enough high-end products have been developed. This an underlying factor in lower growth of Chinese machinery production in the sector.
In 2017, the annual growth rate of agricultural machinery revenues is projected to be 5.1 percent, and the compound-average annual growth rate from 2016 to 2021 is only 6.2 percent.
Beginning in the second half of 2016, machine tool production showed steady improvement. In 2016, the growth rate of machine tool production was 5 percent. The main drivers of this growth were a market rebound due to infrastructure investment and increased demand for machine tools as the downstream industries grew.
The growth rate of machine tool production is projected to be 8.9 percent in 2017; for metal cutting machine tools it is 8.2 percent, and for metal forming machine tools it is 10.3 percent. At present, the market demand for machine tools is a reflection of improvement in the balance of supply and demand. There will be an obvious uptrend in production new standard equipment, custom equipment, and upgrade equipment.
Since the second half of 2016, the market for construction machinery has been recovering. In 2016, the output of construction machinery was up to 4.4 percent; following a decrease in 2015; this was mainly due to investment in infrastructure projects and in PPP projects.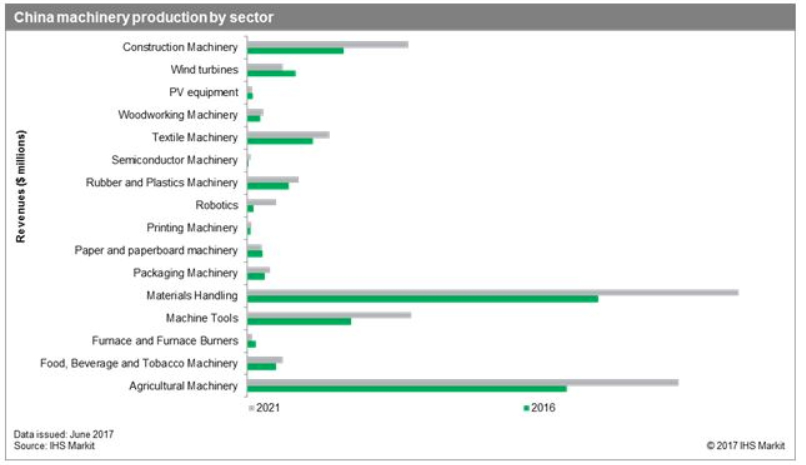 According to the National Bureau of Statistics, excavators – as a general indicator of the fortunes of construction machinery – have maintained a sales growth rate of more than 40 percent year-over-year for the last 10 months. IHS Markit forecasts that construction machinery production will continue to grow in the second half of 2017, with an annual growth rate of more than 9 percent and a compound-average annual growth rate of about 10.8 percent from 2016 to 2021.
Future outlook
Based on China's "13th Five Year Plan," step by step implementation of "Made in China 2025," and the policy of supply-side reform, the environment of machinery production will continue to improve to 2021. The constant promotion of overseas activities in line with the "One Belt One Road" opens the door to new export markets for Chinese machinery.
IHS Markit forecasts that machinery production will grow by more than 3 percent per year from 2018 to 2021, while the compound-average annual growth rate will reach 4.9 percent for the period 2016–2021. With the continuous optimization and adjustment of the industrial structure, machinery products will be developed to increase sales to the medium and high-end markets. Demand for upgrading production will drive the growth in the market for automation products.
Machinery Production Market Tracker
The IHS Markit Machinery Production Market Tracker presents an in-depth review of major machinery production in Europe, Asia Pacific, and the Americas. The machinery production market tracker presents annual forecasts, updated every quarter, to ensure you have up-to-date information to allow for the most informed decision-making. The tracker also presents the value of automation products included in each machine by type.