2017-08-20 14:49:10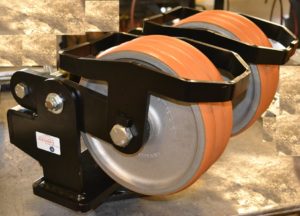 There's no job too large or too tough for Mammoth Custom Casters, the newest product line by Caster Concepts, the leading manufacturer of industrial casters, rigs, wheels and accessories.
Mammoth Custom Casters are Caster Concepts' answer to unique and complex challenges. Whether the need is for a caster to roll over glass without cracking it, or to move very large machinery, or to swivel with exact precision, Caster Concepts will develop the solution to fit the application.
Caster Concepts has designed and built Mammoth casters for a variety of challenges:
3-foot-by 4-foot-wide casters with wheels measuring over 30 inches in diameter with an axle gear can be used on a motor-powered steel transporter carrying over 250,000 pounds of steel, plus the weight of the huge transporter.

Custom casters can carry over 600,000 pounds of coal, plus the 150,000-pound turntable

Dual-wheel casters engineered and designed for a track with a capacity of 50,000 pounds for each caster.

A unique swivel section was designed to achieve consistent smooth rotation for a finishing mandrel (each caster had a 35,000-pound weight-capacity requirement).

Six-tire turtle casters can disperse weight on a crane used for replacing huge glass solar panels.

Dual-wheel shock-absorbing ergonomic casters with a weight capacity of 14,000 lbs. reduce push force by more than 60 percent.