2018-09-19 02:11:39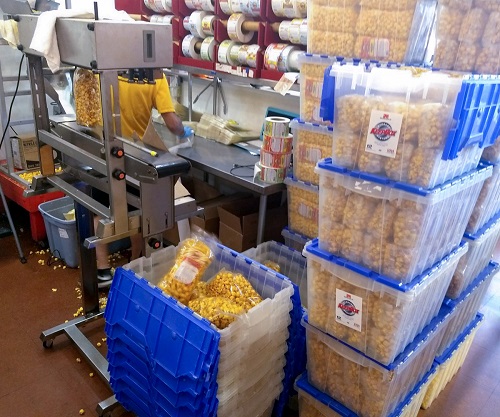 Campbell's Sweets Factory – a Cleveland, Ohio store started in 1975, which manufactures and sells a wide variety of gourmet popcorn, cupcakes and other sweet treats – has made great use of the Akro-Mils KeepBox™.
Owner Jeff Campbell says, prior to using the KeepBox, they were using different sized tubs with separate lids, along with cardboard boxes, which ended up being problematic. The lids kept getting separated from the tubs and the cardboard presented a disposal issue.
While searching for a lasting solution, Campbell began his search online. He came across Akro-Mils products, and noticed the KeepBox right away.
A Lasting Solution
Since Campbell switched to the Akro-Mils product, he has seen a cost savings, along with efficiency improvements. He says the KeepBox can nest in each other when empty, "we can stack these six to seven layers high, they fit perfectly on shelves, and they're reusable". The staff call them the "Blue Tops", due to the blue attached lids.
Campbell had specialty shelving specifically designed to hold the KeepBox and allow them to slide from one end to the other for product rotation. "We have four store locations, all of which use the KeepBox for our storage needs," says Campbell. "Christmas is the busiest time of year for us. We start making popcorn ahead of time; date the containers and store the popcorn in the KeepBox. We build up inventory during the early winter as we prepare for our busy season, so the KeepBox is a great way to store the finished product".
KeepBox Gets the Job Done!
While transporting bagged popcorn from one store to another, Campbell has noticed the difference with using the KeepBoxes. It's an easier and more convenient way to transport the popcorn, and less time consuming compared to their prior system of cardboard boxes, and tubs with lids. The lids would crack, break, or separate from the tubs; with the KeepBox they do not have this problem. And they are a uniform size, making it easy to maximize the space in their trucks. They last a long time, eliminating having to regularly order new containers.
Employee Testimony
Reaction from employees has been positive since switching to attached lid containers. Employees say, the KeepBox is much easier to pack popcorn in, and easier for one person to carry.
Ian with Campbell's Sweets says, "It cuts running back and forth; we get a really nice stack in production before having to move it back to the shelves. We are able to pack 22 regular size or 8 large popcorn bags into the 'Blue Tops'."
The transparency of the container is vital for quickly identifying the box's contents. "Being able to see through it is a valuable feature. It is a fine product, I wouldn't change anything."
Campbell says, "We are an Akro-Mils customer for life!"